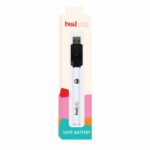 Vape Battery
$

24.95

—

or subscribe and save

25%
Sale!
Vape Battery
— or subscribe and save 25%
400 mAh battery
Variable voltage between 3.3V-4.8V
Comes with a USB charger
Compatible with all 510 cartridges
How to Use: Press 5x to turn on/off, press 2x for preheat, twist bottom to adjust voltage
In stock
Description

The perfect battery to use with your BudPop vape cartridges. We've used the same time and care to create the best battery to use for all your vape carts. The BudPop Vape Battery fits easily in your pocket, charges fast, and works with a click of a button. Additionally, we have upgraded our batteries so that you can adjust the heat to get the perfect hit every time. The BudPop Vape Battery works with almost all vape carts as long as they are 510-threaded. 

Directions:

Hold the button to take a draw (up to 10 seconds). Click the button 3 times to turn on/off.

Enjoy.
Product
Ratings & Reviews
Here's what customers think about Vape Battery:
Vape Battery
Love the vape pen. So easy and convenient.
😙💨=🤩
Simple to use! Easy to charge!
Seems good
Am a new customer who hasn't vaped in years. Battery seems to hold up well, I use the pre warm every hit and I charge every other day just for peace of mind. Price is right, I bought a 2nd for a backup.
Excellent on the go
Love my new vape batter. Is easy to use and they have great tasty options.
Amazing
I love the vape cartridges and the battery itself if good