What Exactly Is CBD Flower?
Hemp and marijuana are both cannabis plants, but they differ in a few ways. The biggest factor is the delta-9 THC content, with hemp being very low in it and marijuana being very high. Du e to this, hemp is federally legal in the U.S. while marijuana is not. While hemp is low in THC, it is high in CBD, which is why we source our CBD flowers from it. The end-product CBD flowers are simply buds that have been cut from the top of the hemp plant that are rich in CBD and low in THC.
CBD flowers look very similar to the traditional marijuana buds we are used to seeing. But due to the high CBD content, many prefer hemp for the benefits, such as promoting calm and relaxation, among others. With hemp, you also will not get the unpleasant side effects often associated with marijuana, like paranoia and anxiety. Instead, you will get a smooth smoke, no high, and a slew of benefits.
It is important to remember that the source of the hemp flower determines its safety, potency, and quality. Since U.S. farms are subjected to strict regulations regarding growing procedures, soil conditions, etc., you can trust the hemp grown there. As a result, we only source our CBD hemp flowers from the best farms in Nevada and Colorado.
How Do CBD Flower Work?
As we have mentioned, the main component in hemp flowers is CBD, the benefits of which make it appealing to users. CBD is in the same realm as other cannabinoids like CBG, CBN, and even delta-8 and delta-9 THC. Each of these come with their own perks, such as having anti-inflammatory or sedating properties, among others. 
In the human body lies the endocannabinoid system, which contains two receptors — CB1 and CB2. Even if you do not use cannabis, this system is still present in your body, and it is responsible for regulating a number of mental and bodily functions, such as memory, appetite, sleep, and mood. Although it was only discovered in 1990, the endocannabinoid system has been working to promote homeostasis in humans since the dawn of time.
While research is still ongoing to learn the full extent of this system, we know a few things about it. For one, it facilitates the communication between different cells in the body and essentially connects the body with the mind. And remember those receptors we talked about? Our bodies naturally produce endocannabinoids as needed, which act on the CB1 receptor, found in the central nervous system, and the CB2 receptor, found in the peripheral nervous system.
When we consume THC, it binds to these receptors and produces a wide range of effects. CBD, however, does not bind to these receptors but instead prevents the breakdown of endocannabinoids. As a result, CBD has its own impacts on the body that make cannabis users choose it over THC-rich goods.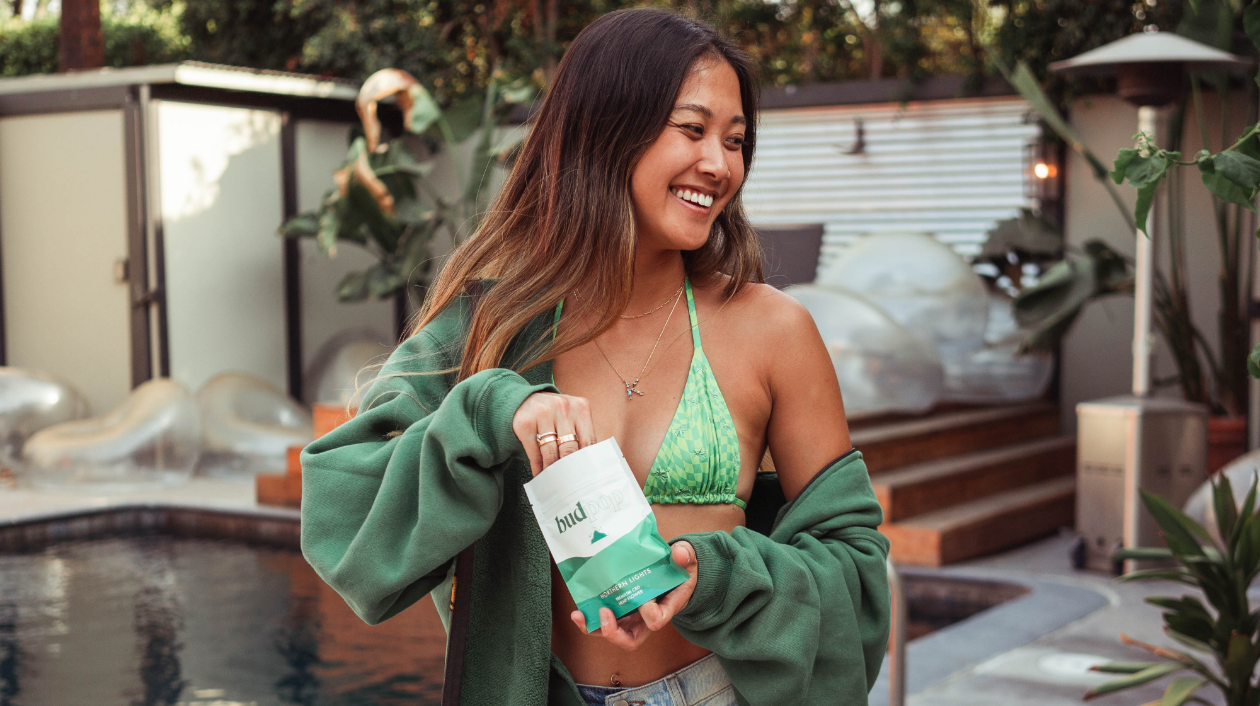 Can You Smoke CBD Hemp Flower?
CBD hemp flowers are often the go-to choice for many cannabis consumers for one main reason — versatility. Not only can you smoke CBD in the form of a joint or a bowl, but you can also vape it with a vaporizer or make edibles out of it. This versatility ensures you never get bored with CBD flower and allows you to choose your preferred method, making sure you get the desired results and have fun while you are at it.
However, it is important to remember that each delivery method is different and as such, will react with your body in varying ways. For example, vaping and smoking CBD allows you to feel near-immediate effects, while ingesting flowers in the form of edibles will take longer, usually about an hour or so. However, despite the fast-acting properties of smoking or vaping, the effects tend to wear off sooner. On the other hand, edibles may take longer to kick in but are more long-lasting.
Different Types of CBD Flower Strains
All cannabis plants — both hemp and marijuana — come in a variety of strains. If you do not know what a strain is, it is essentially a unique "breed" of cannabis that has its own taste, due to terpenes, and CBD-to-THC ratio, which determines its effects. Overall, there are three different types of strains — sativa, indica, and hybrid, which is a combination of the two. 
Growers manipulate these strains, or "breeds", to control the CBD or THC content to create the desired results when used. Now more than ever, we are seeing more and more strains being created, offering cannabis users even more variety in what they can expect to experience. While this may bring up confusion, especially to those who are new to CBD, our limited offerings in CBD flowers will make the decision easier on you.
So, what are the differences between sativas, indicas, and hybrids? Sativa strains are known for their uplifting and energizing effects and are ideal for use during the daytime when you need a pick-me-up. Sour Diesel CBD flower is a popular sativa-dominant strain that we offer, which we will look into further later on. On the other hand, indica strains are relaxing, sedating, and best used at night to unwind or to promote sleep. Our Northern Lights CBD flower is an example of an indica-dominant strain. 
As we said earlier, hybrid strains combine both indica and sativa strains to provide a mix of effects on the user. Usually, either sativa or indica are dominant in a hybrid strain; however, some varieties offer a 50/50 mix. Hybrid strains are becoming more popular and favored by users due to the fact they can help uplift your mood while also calming you down.
BudPop's Sour Diesel CBD Hemp Flower
Most traditional way to consume CBD is smoking, and what better way there is than buying BudPop's Sour Diesel CBD flower. The naturally extracted hemp flower from Colorado & Nevada, is the best hemp strain you can possibly find. Our local artisans ensure that the sativa dominant strain does not lose its quality during extraction. As a result, you get fresh and natural CBD hemp flowers available in 4.2g to 454g (1 pound) packs. As we say, pop plants not pills, become a member of our BudPop family and save another 25% on your purchases.
BudPop's Northern Lights CBD Hemp Flower
We aspire to deliver you the best entourage effect. The BudPop's Northern Lights CBD flower is the most potent indica dominant strain you can find in the entire hemp industry. Hailing from the states of Colorado, the northern lights CBD flower is available in sizes starting from 4.2g to 454g which contains 20.73% of CBD and 0.067% of Delta-9 THC. It's not only about enjoying the high, one may experience weight loss, faster metabolism and a relaxed body mind. Get free shipping and exclusive offers, buy Northern Lights hemp flower now!
BudPop's Premium CBD Hemp Flower Strains
At BudPop, we offer two different CBD flower options, both of which are sourced from reliable U.S. farms in Colorado. First we have Sour Diesel, which, as we said, is a sativa-dominant strain. As such, you can expect to feel relaxed, focused, and energized, and it may even spark creativity. With a sour, tangy taste and aroma, each puff is sure to put you in a great mood and make you ready to take on the day. With a CBD content coming in at 20.165%, you will get all the good benefits of CBD, like relief from anxiety, pain, and the stress of everyday life. 
Also, it has a low THC level at 0.094%, meaning you will not experience any of the negative effects associated with marijuana. With this being a pretty potent and powerful strain, it is not best for beginners. However, if you have experience in the cannabis world, Sour Diesel may just be the perfect choice for you. So, roll it up into a joint, pack it in a bowl, or even make cannabutter out of it for your favorite edible recipes. With this strain, the sky really is the limit.
Our second CBD flower option is our Northern Lights strain, which is perfect for chilling out after a long day. Since it is an indica-dominant strain, you can expect calming, relaxing, and sedating effects, making it perfect for nighttime use or when you have trouble sleeping. With Northern Lights, you will get an earthy taste and aroma from these dense buds, providing a satisfying smoke session. In comparison to Sour Diesel, this strain offers more bodily effects than ones on the mind. So if you are struggling with pain or discomfort, you can turn to Northern Lights as a solution to managing your ailments and putting your muscles at ease. 
Moreover, the CBD content is high at 20.73%, providing a variety of benefits aside from those already mentioned. The THC level is even lower than that of our Sour Diesel strain, and the flower provides a smooth smoke with no harshness, making it the perfect choice for beginners. Users have even reported that they use our Northern Lights CBD flower to manage pain, and as a result, they have ended up using less prescription pain medication. 
You can grab either of these CBD flower strains in a variety of pack sizes, including 4.2g, 7g (1/4oz), 28g (1oz), 114g (1/4lb), 227g (1/2lb), and 454g (1lb). Discounts are also available, along with a rewards system for further deals, allowing you to get our high-quality buds at a pocket-friendly price.
CBD Flower FAQs
What are the benefits of CBD hemp flowers?
CBD is known to have many medicinal and therapeutic benefits. When it interacts with the endocannabinoid system, you get relief from stress and anxiety. It may also help promote sound sleep and improve sleep quality, allowing you to get much-needed rest after a long day. Additionally, CBD is known to be a great pain reliever, and users have reported that CBD flower has helped them manage a number of ailments, such as TMJ, seizure disorders, muscle spasms and cramps, social anxiety disorder, and more. While research is still being conducted to realize the full potential CBD has to offer, many are already using it for a multitude of conditions successfully.
Another benefit of CBD hemp flowers is the versatility it offers. No matter what your preferred method of ingestion, CBD flower is suitable for you. Whether you smoke it, vape it, or make it into edibles, you will still be getting all the good properties of CBD in a high-quality form. You can even roll a few joints at once so you have one to carry around, making it travel-friendly. Moreover, we can also argue that CBD flower is the most economical choice, as you can get one of our standard eighth bags for $39.95, which will last you awhile if you are only a moderate user. If you are more of a heavy user though, go for one of our bigger pack sizes at a discounted rate.
Where do you source your CBD hemp flower?
It is essential to ensure the CBD hemp flower you are consuming was grown on U.S. farms that operate according to the standards set by the U.S. government. When hemp grows, it absorbs nutrients — and whatever else is present — from the soil. Therefore, if the soil contains toxins, pollutants, heavy metals, or any other harmful materials, then the CBD hemp flower will have those as well. If you happen to smoke a hemp flower that has been exposed to harmful components, then you risk harming your health long-term. That is precisely why it is so important to check the source of hemp before making a purchase and only buy flowers that are grown on certified U.S. farms.
As such, we source our hemp flowers from Nevada and Colorado, which are known for producing the best-quality hemp in the U.S. The farms we collaborate with grow the hemp organically and naturally, and they do not use any pesticides or GMOs. Moreover, all of our CBD hemp flowers go through rigorous third-party lab testing, which analyzes the product for purity, potency, and the presence of any harmful materials, such as heavy metals or pollutants. As a result, when you use our CBD hemp flower, you can rest assured you are only getting pure, safe, and potent cannabinoids and terpenes, with none of the nasty stuff.
Why should I choose BudPop's CBD hemp flower?
We care about our customers, which is why we provide customer-friendly policies. Not only do we offer free shipping on all orders, but we ship our CBD flowers throughout the U.S. So no matter where you live, you can get our top-notch CBD products delivered right to your door, all for free.
BudPop is also a trusted, reputable, and well-known brand, with many satisfied customer reviews to back up our validity. Our customer support team is excellent as well, and they are ready to help with any questions or concerns you may have.
Moreover, all of our CBD hemp flowers are subject to thorough third-party lab testing, meaning they have been verified as safe to consume. You can view the lab test results, or Certificates of Analysis (COAs), on our website to check and verify the claims made for yourself.
What should I know about CBD products if it is my first time using them?
If you are new to CBD products, then there are a few things you need to keep in mind. First, you need to ensure the product you are using is legal where you are residing. To be federally legal, the CBD product must contain less than 0.3% THC. So, make sure you take a look at the label to check this aspect. Next, you should pay attention to how much you should take, or the dosage. This is usually indicated on the product label, but if not, you can reach out to our customer support team for guidelines.
It is important to remember that when first starting to use CBD, it is best to start slow and with a very low dose. With CBD hemp flowers, for example, you should only take a small amount and wait for about 15 minutes to observe the effects and see how your body reacts. Once you have established a tolerance, you can increase the dose as needed. If you happen to overdo it, you may experience unpleasant effects such as dry mouth or increased anxiety. So overall, remember to be safe and take it slow when using CBD flowers — CBD gummies or any CBD product — for the first time.