What Are CBD Gummies?
CBD is derived from the hemp plant, making it federally legal in the U.S., provided it contains less than 0.3% THC. As such, new CBD products have been popping up in the market, with CBD gummies being a fan-favorite.
No matter if you are new to CBD or a daily user, CBD infused gummies are one of the best, safest, and most fun ways of getting your daily dose. Coming in fruit-flavored pre-dosed shapes, you take them anywhere you go, making them discreet, travel-friendly, and convenient to use. 
CBD comes with a variety of benefits, and including it in gummies allows users to get those benefits wherever they are. CBD is known to provide many beneficial health properties. As a result, a multitude of people depend on it to help them live their daily lives in peace and comfort.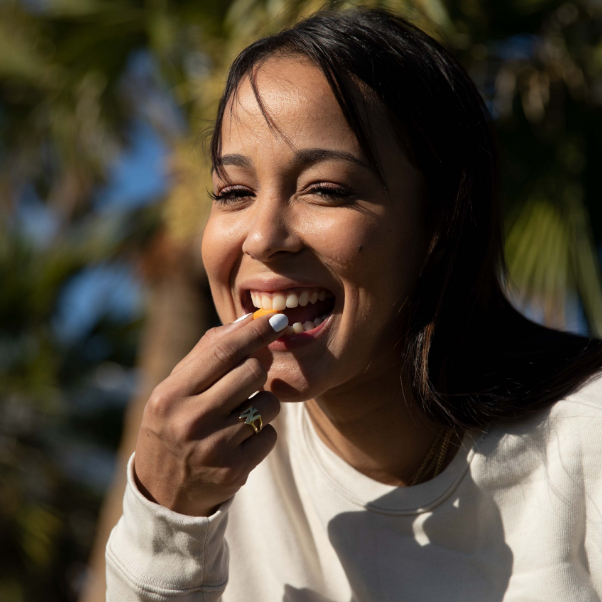 Broad-Spectrum vs. Full-Spectrum CBD Gummies
CBD gummies come in three different types — full-spectrum cbd gummies, broad-spectrum cbd gummies, and isolate cbd gummies. But here, we are going to focus on full-spectrum cbd gummies  and broad-spectrum CBD gummies.
Full-spectrum CBD gummies have a variety of components present in the hemp plant, including THC. This form is thought to be more potent and able to provide an overall better experience because it produces "the entourage effect", which is when all of these compounds interact and work together. 
On the other hand, we have broad-spectrum CBD, which again, contains a number of compounds found in the hemp plant. The only difference is broad-spectrum CBD does not have any THC present. As a result, it does not cause the entourage effect; however, the effects provided are still more than those of CBD isolate, which is just pure CBD with no other compounds. 
We use broad-spectrum CBD in most of our CBD infused gummies, except for the watermelon-flavored full-spectrum variant. As a result, you have the option to get a little bit of THC (less than 0.3%), or you can go THC-free with our other varieties. This puts you, the customer, in charge of what you get out of our potent CBD infused gummies.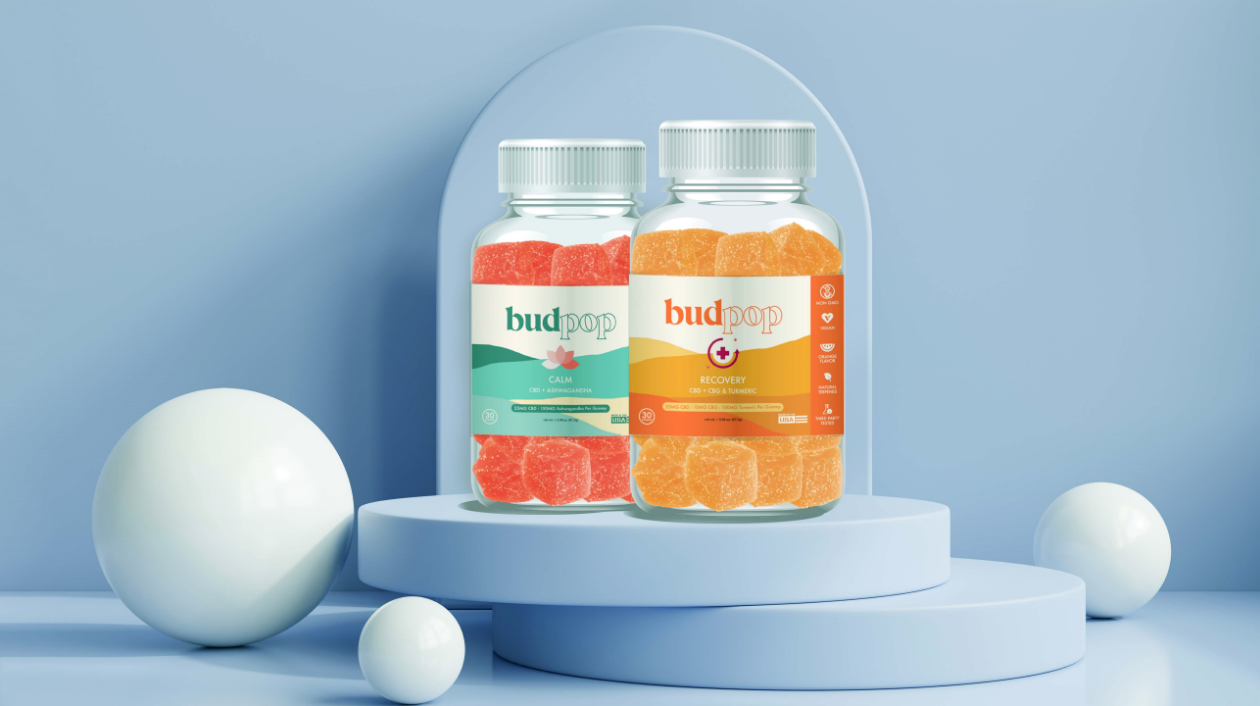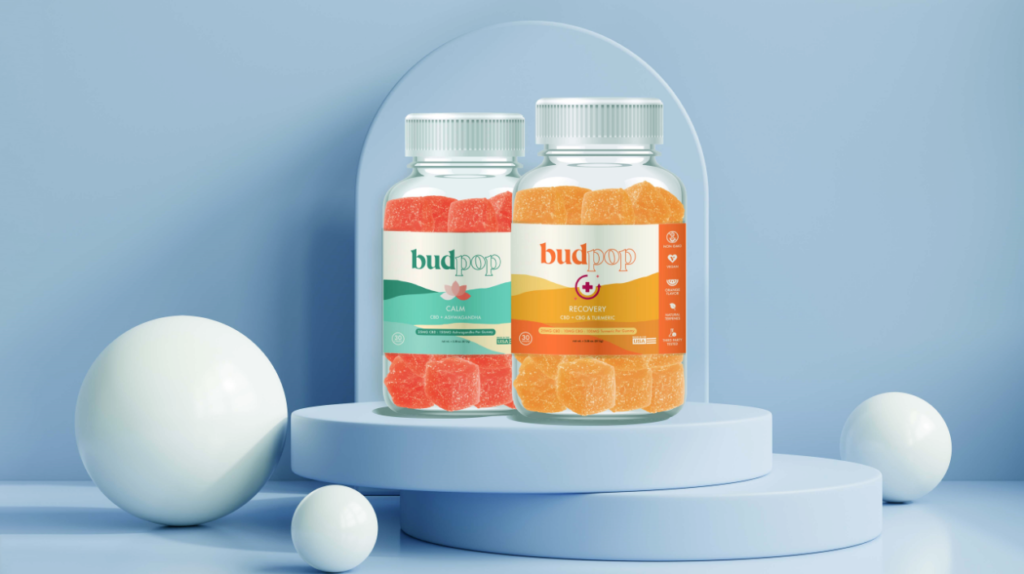 How to Calculate an Accurate CBD Dosage? 
At BudPop, we like to make things simple for our customers. That is why our CBD gummies come pre-portioned in measured doses. Calculating an accurate CBD dosage for yourself, however, depends on a number of factors. These include your metabolism, weight, tolerance to CBD, frequency with which you take it, etc. But despite this, generally, you can follow the brand or manufacturer's recommendations on dosing. 
For example, we recommend taking one to two CBD infused gummies every six hours or as needed. You generally do not need to worry about taking too much. But still, you should always be careful and try to stay within the recommended guidelines. If you do happen to take too much, you may experience some unpleasant side effects, such as dry mouth and red eyes. However, you can mitigate this by listening to your body and only taking a dose you are comfortable with. 
Despite these general recommendations, you may still find the results of taking CBD gummies lacking. For example, if you are using CBD to ease discomfort, you may find you need to take a higher than recommended dose. Also, if you are a beginner, make sure to start slow and take even half of a CBD gummy to start until you build your tolerance. In the end, if you have any concerns, questions, or issues, it is always a good idea to consult your doctor, especially if you have any underlying medical conditions or are on any medication. This way, they can accurately advise you on the proper dose for your specific needs.
CBD Gummies For Discomfort (CBD + CBG Turmeric Gummies)
First, we have our CBD + CBG & Turmeric CBD Gummies, which are formulated to help provide relief from discomfort. Along with the 25mg of CBD, we also included 10mg of CBG and 100mg of turmeric, which is known for its ability to aid in decreasing joint swelling. It also includes black pepper extract, which boosts the absorption of the other ingredients by our bodies. This makes these CBD gummies effective at what they were intended to do, and these claims are even backed by a number of user reviews. Moreover, these CBD gummies for discomfort are orange-flavored, making them a delicious treat that is perfect to take the morning after a strenuous workout.
CBD Gummies For Sleep (CBN Sleep Gummies)
Our second option is our CBD + CBN Sleep Gummies, which, as you may have guessed, are intended to promote deeper more restful sleep. With the addition of 10mg of CBN, you get its well-known sleep benefits packed in with CBD to achieve even more beneficial effects. We also added 3mg of melatonin to the gummies, which comes with its own dreamy properties. Coming in blueberry-flavored, cube-shaped gummies, use one of these as a tasty treat 30-45 minutes before bed to help you drift off into a peaceful slumber and wake up feeling refreshed, energized, and ready for the day. Users have reported that these CBD sleep gummies have worked better than any other they had tried, so you can be sure they are effective and safe to use.
Ashwagandha CBD Gummies (Calming Gummies)
Next, we have our CBD + Ashwagandha Gummies, which are meant to promote calming feelings throughout your day. Each mixed berry-flavored CBD gummy comes with 25mg CBD and 150mg of ashwagandha, which is a medicinal herb known for relieving tensions. When combined, these compounds work together not only to induce a sense of calm, but also to provide energy and enhance focus. With a shelf-life of 12 months, you can use these gummies as often or as little as you want without the fear of them losing potency or going bad. Just store them in a cool, dry place away from light. As an alternative, you can even keep them in the refrigerator to ensure their lifespan. Users have great things to say about our CBD + Ashwagandha Gummies, as they have reported complete body relaxation and calming effects on the mind.  
Full Spectrum CBD Gummies (Hemp Edibles)
Our last option is our Full Spectrum CBD Gummies, which has 750mg of full-spectrum CBD per bottle. As we mentioned, all of our other CBD gummies come in broad-spectrum form, making this option stand out from the rest. With these gummies, you will get a heightened experience. This is due to the fact they contain full-spectrum CBD, so you will get what is called "the entourage effect", making them relatively more potent and effective. As a result, you can use our Full Spectrum CBD gummy for a variety of reasons, whether it is for over-thinking, relaxation, or anything else, for that matter. Moreover, these gummies are watermelon-flavored, so not only do you get the benefits of full-spectrum CBD, but you get them in a tasty form.