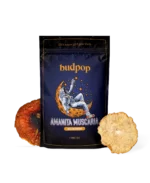 Amanita Muscaria Dried Mushrooms
$

79.95

—

or subscribe and save

25%
Amanita Muscaria Dried Mushrooms
$79.95 — or subscribe and save 25%
1 Ounce (28g) Dried

Amanita muscaria

Mushrooms

Expertly Dehydrated to Preserve Potency

Naturally Grown in the USA

No Artificial Coloring, Flavors, or Additives

100% Federally Legal
Description

Have you seen those fabled red mushrooms with the white dots on them? The fungus Amanita muscaria, sometimes called fly agaric, has become recognizable in a variety of folklore and popular culture. It even serves as the universal emoji for all "magic" mushrooms in popular culture! Lauded for its mind-expanding qualities, the experience of Amanita muscaria dried mushrooms is special and distinct from that of other psychedelic fungi. 

Due to the active ingredients it contains and how they function, Amanita muscaria is in a class all by itself. Both proponents and opponents of the mushroom exist, although it can be used safely if it is prepared and dosed correctly. Amanita has actually been used by numerous cultures for hundreds of years all over the world! Let's examine the details of this misunderstood fungus and how it can provide you with an unforgettable experience. This will help us better understand the wide range of documented tales of Amanita muscaria experiences. 

Premium Amanita Muscaria Dried Mushrooms

When considering an Amanita muscaria experience, we advise looking for products of the highest caliber. By avoiding raw or fresh mushrooms, you can reduce the mild risks associated with eating Amanita. The stem of a live Amanita can harbor a variety of larvae in its natural habitat, rendering it unfit for human consumption. It is also impossible to tell the potency of fresh mushroom caps; however, prepared and dried Amanita muscaria caps can have their active ingredients quantified in a laboratory. 

The two main Amanita compounds measured in testing are muscimol and ibotenic acid. The main source of Amanita's sought-after cerebral effects is its muscimol concentration. Ibotenic acid, on the other hand, has some mind-expanding qualities, but can be poisonous in very high concentrations. Thankfully; Amanita muscaria that has been properly processed and dried only contains minute levels of ibotenic acid. These minute concentrations of ibotenic acid turn into muscimol via the reaction of our digestive system. Consuming a fresh mushroom with high levels of ibotenic acid, however, could have unfavorable and possibly harmful side effects.

This makes laboratory testing of Amanita products essential. It is simpler to safely consume dried Amanita muscaria when you know how much muscimol and ibotenic acid are present. Additionally, it guarantees that the muscimol in your Amanita muscaria items is consistently and reliably present. Knowing the quality of the source is essential given the abundance of locations offering Amanita muscaria for sale. Before acquiring Amanita items for yourself, always research the products you are considering! 

Why Choose Budpop Amanita Muscaria Dried Mushroom Products?

At Budpop, we take pleasure in creating high-quality goods that are reliable, secure, and enjoyable. We follow strict quality control guidelines for manufacturing all of our Dried Amanita Muscaria Mushroom Caps and Amanita Gummies. This guarantees that they consistently provide a satisfying experience. 

We work with mycological specialists to find the highest caliber mushrooms for our Amanita Muscaria Dried Caps. We use the right temperature when drying our Dried Amanita muscaria mushroom caps in order to turn any extra ibotenic acid into muscimol. For our Amanita Muscaria Gummies, our thorough extraction technique removes undesired ibotenic acid and preserves muscimol. We test all of our Caps and Gummies for muscimol and ibotenic acid concentrations, so you can enjoy Amanita with peace of mind. 

Amanita Muscaria Dried Mushrooms FAQs

With all there is to learn about Amanita muscaria, you may have more questions about this iconic mushroom. For more clarity, we have included a collection of our most frequently asked questions and their corresponding answers below.

What Are the Benefits of Amanita Muscaria Dried Mushrooms?

Anyone looking to advance their personal and spiritual development through a transcendental, euphoric experience could greatly benefit from Amanita. It can assist in gaining fresh perspectives and overcoming creative roadblocks. Muscimol is said to have a calming, uplifting quality that sometimes feels pleasantly dreamlike. 

In comparison to psilocybin, which some individuals may find stimulating, muscimol is also renowned for having a more sedating effect. Others discovered that the most vivid Amanita experiences they had occurred while they were asleep and experienced colorful, fanciful dreams.

How To Use Dried Amanita Muscaria Mushrooms?

Depending on your preferences, there are a variety of ways to enjoy dried Amanita muscaria. Historically, people have eaten dried Amanita muscaria mushroom caps directly or boiled them in water to make tea. 

When taking our Dried Caps, we suggest starting with ⅓ of a small-sized cap (approximately 2g) and gradually increasing the dose as needed. If you decide to consume more, we recommend keeping a 3-hour interval between doses to fully determine the effects. If you prefer to make tea, start with approximately ½ a small-sized cap per cup of tea. As with eating dried Amanita muscaria, wait 3 hours to determine the full effects.

Are Amanita Muscaria Dried Mushrooms Safe?

Yes, dried Amanita muscaria mushrooms are safe to consume when correctly prepared. Various cultures worldwide and throughout the ages have consumed Amanita muscaria for medicinal and spiritual purposes. 

For best results and peace of mind, we always recommend buying lab-tested Amanita products and practicing responsible and sensible consumption. Our Dried Amanita Mushroom Caps and Amanita Gummies come with a Certificate of Analysis (COA) verifying the exact contents of each batch, so you can explore Amanita safely. As with all products, we recommend starting with a low dose and gradually increasing it as you become comfortable with the effects. 

Are There Any Side Effects of Amanita Muscaria Dried Mushrooms?

If you overconsume Amanita Dried Mushrooms, it can cause moderate and temporary side effects like nausea, gas, salivation, perspiration, and sluggishness. You can usually avoid these issues by consuming sensibly and following serving recommendations. If any of these side effects happen, just sip on some water and find a quiet spot to rest until they pass. 
Product
Ratings & Reviews
Here's what customers think about Amanita Muscaria Dried Mushrooms: