Shop CBD Oil Tinctures
What Is CBD Oil?
CBD oil has greatly increased in popularity over the last decade, but many still do not fully understand this product. Simply put, CBD oil is made from extracted oil from the Cannabis sativa plant. This extract is combined with a carrier oil, such as hemp seed oil or coconut oil. Unlike the THC found in marijuana, CBD, or cannabidiol, is not psychoactive and, therefore, may provide many of the reported health benefits of marijuana without the dangers associated with getting 'high.'
Most CBD oils are available in 30ml glass dropper bottles, which is approximately 30 servings of CBD. The oil is shelf-stable if stored in a dry and cool place away from light. Because of its convenient packaging, taking a tincture is considered one of the simplest ways to consume CBD oil on the go. You only need to place a few drops under your tongue and wait for them to take effect.
With our CBD tinctures, you can trust that you are getting a high-quality product that is also safe as we use no additives or preservatives and submit our products for third-party testing. These tinctures and other products from our CBD line are a chance for you to experience organic hemp products that have been held to the highest standards through growth, cultivation, and packaging.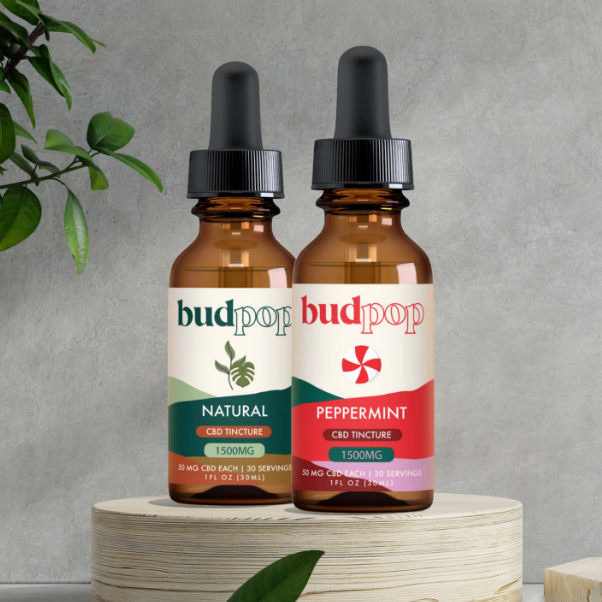 What Are The Benefits Of CBD Oil?
CBD works directly with the body's endocannabinoid system (ECS), a complex signaling process that helps to regulate mood, appetite, sleep, and memory. The human body naturally produces endocannabinoids, molecules that bind to CB1 receptors in the central nervous system and CB2 receptors in the peripheral nervous system. While researchers are not entirely sure how CBD interacts with the ECS, they speculate that it lengthens the time it takes for endocannabinoids to be broken down, thereby improving the function of these neuroreceptors.
Potential benefits of CBD oil may include reduced anxiety and depression, reduced PTSD symptoms, reduced chronic pain, protection against certain neurological conditions, and overall improved brain, heart, and skin health. While research is still being conducted into how CBD improves these conditions, there is extensive anecdotal evidence from users that indicates the benefits of CBD are extensive. Moreover, CBD may have these benefits but without the psychoactive effects of cannabis. Although some CBD products do include trace amounts of THC, this is not close to the amount needed to feel 'high.'
Whether you're looking for a way to relax after a hard day of work or searching for relief from chronic pain and aching muscles, CBD oil may be an effective way to improve your quality of life.
Different Ways To Consume CBD Oil Tinctures
CBD oil can be used in several different ways, and some may be more suitable for you than others. There are different options when it comes to flavors of CBD oil. You could choose a flavored CBD oil or an unflavored CBD oil. Here at BudPop, we offer two different options for CBD oil flavors: Peppermint and Natural.
Our Peppermint flavored CBD tincture carries all the benefits of CBD oil with a pleasant, natural peppermint flavor to add an extra splash of flavor. For those who enjoy the taste of CBD, the Natural CBD tincture carries no additional flavoring, so you can experience natural hemp at its finest. Both varieties include coconut oil as a carrier oil, but this mild flavor does not affect the terpenes' taste. Both the Peppermint and Natural tinctures that we offer include 1500mg of CBD, and one serving is 50mg of CBD.
Sublingually
The most common way to consume CBD oil is to use it sublingually. Through this method, you simply hold the oil under your tongue for at least 20 to 60 seconds before swallowing your dose. While the oil is resting under your tongue, the thin mucus membranes there absorb the cannabidiol, bypassing digestion and rapidly entering the bloodstream. By holding the oil under your tongue, the oil absorbs into your system and you may feel the effects more quickly if you hold it under your tongue rather than just swallowing it.
This method is very popular among CBD users because placing a few drops under the tongue and waiting is a discreet method of consumption. This method also does not require any other material, such as a vape or pipe. It really is one of the simplest and most effective ways to take CBD. However, it may take some users time to determine their perfect dose using the measured dropper, and some users may not like the taste of oils. Some users also report a very slight burning or tingling while the oil is under their tongue, likely due to the natural bitterness of hemp products. While this is in no way dangerous, it may lead users of CBD to look for alternative ways to consume the product.
Ingestions – Edibles (Food or Drinks)
If you are uncomfortable with taking CBD oil sublingually, another option is to add your dose of oil to your food or drink. There are many recipes online to inspire you and help you create tasty meals or baked goods from your favorite oil. Our only caution is that high temperatures can lower the effectiveness of CBD, so stick to recipes that use low cooking temperatures, or check out no-bake recipes for CBD-infused salad dressings, smoothies, protein bites, or whipped cream.
Alternatively, there is an emerging area of interest centered around infusing CBD oil into cocktails. This is a trendy way to make taking CBD a high-class affair and may also develop into a new hobby for some enthusiasts. If you're looking for something simpler, you might try adding your oil into an everyday drink, like tea or coffee. One drawback of this is the nature of mixing oil with other liquids—because oil is insoluble in water, you may struggle to get oil to fully mix into drinks with high water content. You may need to continue stirring your drink to keep the oil from separating and resting on the top of the drink.
If you choose to add oil to your food and drink, keep in mind that your flavor choice may be important. In most cases, our Natural oil is going to be a safe choice, as its taste will not interfere with the taste of your food or drink; however, a drink such as hot cocoa might benefit from the addition of a few drops of our peppermint oil.
Topicals (Creams & Balms)
Lastly, some oils can be used topically which may help with issues like muscle soreness. Before applying oil to your skin, test a small area to ensure you are not allergic or overly sensitive to the product. If you choose to proceed, place a small amount of the oil in your palm and apply it to the afflicted area, making sure to rub it in thoroughly. The CBD is then absorbed through the skin and may reduce inflammation or relieve aches and pains. This same principle applies to CBD balms and lotions sold on the market. Keep in mind, however, that when used topically, the oil's effect is limited to the immediate area it is applied to. With this method, you may not get the whole-body effects of ingestion.
Each of the above methods come with their unique benefits and drawbacks. We recommend trying each of them to determine the way that best fits your needs and gives you the best results.
BudPop's Flavored CBD Oil
At BudPop, we offer two varieties of CBD oil which include the Peppermint CBD Tincture and the Natural CBD Tincture. The Peppermint Tincture comes in a 1 fl oz glass dropper bottle that contains 1500mg of CBD. Each serving of the Peppermint Tincture includes 50mg of CBD. There are no additives or preservatives in the tincture, it is naturally flavored with peppermint, and it is third-party lab tested for purity and potency. This tincture contains coconut oil, hemp-derived cannabidiol, natural peppermint oil, water, sucralose, and natural terpenes. One bottle of the Peppermint CBD Tincture contains approximately 30 servings. CBD tinctures are easy to absorb and store, and they come in great flavors.
Similarly, the Natural CBD Tincture comes in a 1 fl oz glass dropper bottle with 1500mg of CBD in each bottle. The serving size is 50mg of CBD, and the tincture contains no additives or preservatives. The Natural Tincture is also third-party lab tested, and the Certificates of Analysis are available. This tincture contains coconut oil, hemp-derived cannabidiol, and natural terpenes. There are approximately 30 servings per bottle of the Natural CBD Tincture.
Both the Peppermint CBD Tincture and the Natural CBD Tincture are made with natural terpenes and derived from 100% U.S.-grown hemp. Both tinctures contain less than 0.3% delta-9 THC in accordance with the 2018 Farm Bill. The best way to store either tincture is to keep it in a cool, dry place away from direct sunlight. Both tinctures also come with a 30-day money-back guarantee and the COAs available for the tinctures show that the CBD is safely extracted and safe to consume.
To use the Peppermint or Natural CBD Tincture, you simply use the dropper to get the right amount of oil then place it under your tongue for at least 20 seconds. The oil may take some time to kick in, but once it does, you may feel a soothing and relaxing calm. For only $79.95, you may finally feel less anxious, and you may even sleep better. Furthermore, ingestion is easy as all you have to do is add a few drops of the product underneath your tongue. You can also adjust the dose by changing the number of drops you ingest.
There are many benefits to using CBD tinctures, whether you choose the Peppermint or Natural CBD Tincture. CBD may help as a natural remedy, and although it can take 20-40 minutes to take effect after ingestion, the sense of calm and relaxation is worth the wait. Using CBD tinctures does not cause a "high" or any psychoactive effects. CBD may create a soothing and relaxing effect to help with some ailments.
Peppermint CBD Tincture:
Available in a 30 ml glass dropper bottle, enough for more than 30 servings, BudPop's peppermint flavored CBD tincture gives a new taste and experience to the consumer. The full spectrum CBD oil is vegan friendly and free from animal gelatin. This potent CBD tincture has natural terpenes which unfurls a spicy aroma and flavor. The tincture is suitable for beginners as well as experts who crave that entourage effect when consumed. Stick out your tongue and get a taste of the best CBD oil with peppermint flavor.
Natural CBD Tincture:
Natural CBD oil is for those who crave an earthly taste of hemp while enjoying the effects of euphoria. Each bottle of Budpop's natural CBD tincture contains 1500mg of CBD, enough for prolonged usage. Since consuming CBD oil also gives relief in joint pain, anxiety and sleep, it is safe to say that BudPop CBD tinctures are 100% natural and organic. However, if you are a beginner, we recommend you start slow. Become a part of us, a part of our BudPop family, buy natural CBD tincture today.
FAQs
CBD Oil Tinctures
How long does CBD oil take to work?
The amount of time that CBD oil takes to work depends on several factors. Everyone is different, so an individual's body can determine, at least to some degree, how long it may take for the CBD oil to take effect. Some things to consider include a person's age, weight, metabolism, activity level, and tolerance. Another thing that determines the length of time it takes to take effect is how you consume the CBD oil. Firstly, you can use CBD oil by holding the oil under your tongue so that your soft tissues can absorb the oil. By taking CBD oil this way, it may take at least a half-hour to feel the effects. This is one of the quickest ways to feel the effects of CBD oil.
There is also the option to simply swallow the CBD oil as it is or mix it with your food or drink. It may take longer to feel the effects of the CBD oil if you simply ingest it, but the effects of the CBD may last longer. How you choose to use CBD oil is entirely up to your personal preferences and needs.
What Is CBD Tincture Good For?
Using CBD tinctures can be beneficial in several different ways. CBD products may be very effective at relieving body pain. The human body contains a specialized system called the endocannabinoid system, which helps the body control several functions and trigger specific immune responses. This system controls body functions such as appetite, pain sensation, and sleep.
Furthermore, endocannabinoids, which the body naturally produces, bind to the body's cannabinoid receptors. Studies have shown that CBD can easily interact with endocannabinoid receptors and may help relieve the body of pain and inflammation in the process. CBD oil may also help with easing mental health issues, such as anxiety. Using CBD tinctures before bed may also help with sleep issues like insomnia.
Additionally, CBD contains compounds that may be beneficial to the heart and circulatory system. CBD oil may also be beneficial to people with high blood pressure because the substance possesses incredible blood pressure-lowering abilities. Overall, using CBD tinctures may help with a number of ailments, and our CBD tinctures may be a great natural remedy that may help with anxiety, insomnia, and chronic aches and pains.
What is the difference between delta-8 tincture and CBD tincture?
While delta-8 and CBD are both cannabinoids from the hemp plant, they are two very different substances. CBD is a non-intoxicating cannabinoid and contains little to no THC. CBD is typically taken to help with several ailments including chronic pain and mental health issues like anxiety. CBD can also be used by both people and their pets.
Delta 8 is a minor cannabinoid found in the hemp plant that has effects similar to CBD and delta-9 THC. Delta-8 does have some minor psychoactive effects that are not found in CBD, and for this reason, delta-8 tinctures should only be consumed by humans and not pets. Another difference is the concentration of delta-8 and CBD within a product. Typically there are smaller concentrations of delta-8 than there are of CBD because CBD can be cultivated in higher concentrations.
What is the difference between isolate, broad-spectrum, and full-spectrum CBD oil?
Full-Spectrum CBD
Full-spectrum CBD contains the entirety of components found in the hemp plant, including THC, which is the compound that produces a "high".
Due to this, it produces what is called "the entourage effect", which is when all of the hemp plant compounds work together to create a heightened effect.
Broad-Spectrum CBD
Similarly, broad-spectrum CBD also contains a number of components in the hemp plant, but no THC. While this will still provide you with multiple benefits, they will not be as potent due to the lack of THC. However, if you have an upcoming drug test, broad-spectrum CBD would be the ideal type to take.
CBD Isolate
The last type, CBD isolate, is known to be the purest. This is because it does not contain any other compounds found in the hemp plant, including THC. Instead, all you get is pure CBD. While this may sound enticing, just know that the effects are much less than that of full-spectrum CBD. However, if you want to stay away from THC altogether, CBD isolate is a good choice.
What are the benefits of buying CBD oil online?
Shopping online or in person has pros and cons. When you shop online, you can see all of the products that the brand has to offer rather than just what they have in store. Not only that, but some great companies only sell their products online. You are also able to access educational information about CBD, the products, and the brand itself. You can also find excellent sales and deals on the brand websites that are exclusively online.
Furthermore, you can read all of the information that a brand provides about their products and the results from third-party lab testing. BudPop provides Certificates of Analysis for their products, which contain specific information about the potency, quality, and purity of their products.
Lastly, BudPop offers fast and free shipping, so the products you purchase will be delivered quickly and for no additional cost.