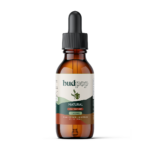 Natural CBD Tincture
$

79.95

—

or subscribe and save

25%
Sale!
Natural CBD Tincture
— or subscribe and save 25%
Full Spectrum CBD Oil
Natural Flavor
Vegan Friendly & Non-GMO
Third-Party Lab Tested
Made in the USA
Free Fast Shipping
1500MG of CBD
In stock
Description

About Natural CBD Tincture

At BudPop, we know our customers are unique and diverse in their tastes, and we strive to develop products that appeal to all. With this in mind, we offer a natural-flavored CBD tincture to compliment our peppermint-flavored tincture. This oil carries all the health and wellness benefits of CBD with a natural, earthy, hemp-like taste. So if you prefer the unchanged flavor of natural terpenes and high-quality hemp, our Natural CBD Tincture may be just the product for you. 

Each bottle contains 30 servings of oil with 50mg of CBD each. This is a highly potent dose, making it perfect for reaping the benefits of full-spectrum CBD, which produces stronger effects than other types of CBD. Since our tincture is naturally flavored, you can easily mix it with your food or drink seamlessly to get your dose how and when you want it. And because it comes in a glass bottle with a pre-measured dropper, you can even take it on the go conveniently and discreetly.

Furthermore, this full-spectrum CBD oil is non-GMO and contains no additives, such as harmful cutting agents, or preservatives. As such, you will not find a CBD oil that is more natural than ours. We also take care not to use any animal byproducts in our oil, making it completely vegan-friendly. Additionally, to ensure purity, quality, and safety, we submit our products for third-party lab testing and make the results, or Certificates of Analysis, available to you. This testing also checks for the potency of our CBD oil as well as the presence of other minor cannabinoids and excess levels of delta-9 THC. As a result, you can know our tinctures are safe to consume.

Each bottle of our Natural CBD Tincture contains 1,500mg of CBD for $79.95. As a bonus, we offer free and fast shipping on all orders and a 30-day money-back guarantee. For first-time customers, we offer a 20% discount on your first order.

Ingredients Of Natural CBD Tincture 

Our Natural CBD Tincture contains only a few ingredients, making it pure. These include:

Coconut Oil:

In addition to its potential health benefits, we use

coconut oil

as a natural carrier oil to improve the consistency of our Natural CBD Tincture. 

Hemp-Derived CBD:

Each bottle of our Natural CBD Tincture contains 1,500mg of

CBD

, which is derived from natural, non-GMO hemp grown locally on U.S. farms. Since farms here are subjected to rigorous rules and regulations, the resulting product is of high quality and very effective. 

Natural Terpenes:

We use terpenes from the hemp plant to give our Natural CBD Tincture its signature earthy, hemp-like taste.

CBD Oil Dosage Guide

 

We have made dosing easy for you by providing a glass dropper marked with one serving of oil. We recommend that you consume a single 1ml dropper of CBD tincture for an approximate dose of 50mg of CBD. With this simple method, you can drop the oil under your tongue for sublingual ingestion. Holding the oil under your tongue allows the CBD to be absorbed quickly, allowing the oil to take effect faster. However, make sure that when you are taking the oil, you do not touch the dropper to your mouth. This ensures you do not contaminate the oil with bacteria from your saliva, keeping it potent and fresh.

For safety, we always recommend beginning with a smaller initial dose and slowly increasing it as desired. New users may try taking only half of a dropper of oil and waiting for about an hour to see how they respond. However, if you are an experienced CBD tincture user, you may proceed as your tolerance allows. If you do consume too much and experience side effects like dry mouth or red eyes, keep in mind that these effects are temporary. Next time, you should just lower your dose to avoid this.

How To Store CBD Tincture?

We design our packaging with long-term storage in mind, so you should never need to change containers with this oil. The dark, amber bottle is designed to limit sun exposure and comes with a convenient, simple dosing method through its glass dropper.

Per our recommendations, our Natural CBD Tincture should be stored in a cool, dry place away from direct sunlight. Keeping the bottle in a cabinet or drawer is optimal, but the glass bottle will keep your oil safe even if you choose to take your bottle with you throughout the day. For optimal results, do not allow your oil to become excessively hot or cold, as this could affect the potency of the oil. By taking care of your CBD tincture per our instructions, you can ensure the product reaches its maximum shelf-life, providing you with great benefits for as long as it should.
Product
Ratings & Reviews
Here's what customers think about Natural CBD Tincture:
Very good product, but the price?
I admit, it's been a few years since I last bought CBD on-line, 5, I think. But my goodness, how the price has jumped! Is this industry wide? As to the Natural CBD Tincture, yes, it is quite good; strong, delivers the body reaction I'm looking for.
Cbd tincture
I like it so far .I only started taking it on August 28
Sleepless in Dallas
Budpop helps me with my sleep issues when alternatives have failed