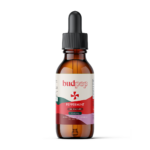 Peppermint CBD Tincture
$

79.95

—

or subscribe and save

25%
Peppermint CBD Tincture
$79.95 — or subscribe and save 25%
Full Spectrum CBD Oil
Peppermint Flavored
Vegan Friendly & Non-GMO
Third-Party Lab Tested
Made in the USA
Free Fast Shipping
1500MG of CBD
In stock
Description

About Peppermint CBD Tincture

Gone are the days of dreading your daily dose of CBD oil due to that not-so-pleasant hemp-like aftertaste. Here at BudPop, we now offer a refreshing and tasty Peppermint CBD Tincture that is not only effective, but also simple to use. We use full-spectrum CBD tinctures to provide users with the "entourage effect," which is when all of the hemp plant compounds work together to create a heightened experience. One bottle of our Peppermint CBD Tincture contains 1fl oz, or 30ml, of oil and a total of 1,500mg of CBD. Each dose of oil contains 50mg of CBD, so one bottle is equal to 30 servings. This makes our tinctures highly potent, serving the needs of a variety of people effectively. Moreover, the minty flavor of the oil provides a refreshing kick that you are sure to love. 

Moreover, our Peppermint CBD Tincture is made with naturally grown hemp from the U.S. and contains no animal byproducts, which means our formula is vegan-friendly and non-GMO. Our oil is also federally compliant with the 2018 Farm Bill, which means it contains less than 0.3% delta-9 THC. Our CBD oil is completely free of additives or preservatives, and the purity and potency of our oil are proven through third-party lab testing, the results of which are publicly available on our website. 

Because we care about our customers, we offer free and fast shipping throughout the U.S. We also offer a 30-day money-back guarantee, just in case you are not completely satisfied with it. With our Peppermint CBD oil, you can sign up for a subscription and save 25% with recurring purchases. Lastly, we sweeten the deal for our first-time customers with 20% off of your initial order. 

Ingredients

Our Peppermint CBD Tincture contains the following components:

Coconut Oil:

We use coconut oil as the base and carrier oil for the CBD, which offers its own

health benefits

. As a result, you get to take advantage of the beneficial properties of both CBD and coconut oil, providing a heightened effect. 

Hemp-Derived Cannabidiol (CBD):

Our CBD comes from natural hemp that is grown on U.S. farms, which contributes to creating the highest quality CBD tincture. 

Natural Peppermint Oil:

The natural peppermint oil that we use provides a refreshing minty flavor to make the whole experience more enjoyable. 

Natural Terpenes:

We derive natural terpenes from the hemp plant to provide aroma and flavor to our tinctures.

Other Ingredients:

There are other ingredients such as sucralose and water that we include to improve both the consistency and taste of the tincture.

Dosage Recommendations For CBD Tincture Peppermint

Accurately dosing our Peppermint CBD Tincture is incredibly easy because our glass dropper is marked with the right dosage for one serving. We recommend taking 1ml of oil, which is 50mg of CBD. There are different ways to use the oil, including sublingually or by mixing it with food or drinks. If you take the oil sublingually, you just have to hold the recommended amount under your tongue for about 20 to 60 seconds. There, it will be quickly absorbed, producing near-immediate effects. If you are mixing it in with your meals or drinks, the effects will take a little longer to kick in since the CBD has to be digested before being absorbed. However with ingestion, it is important to keep in mind that this oil is peppermint flavored, so it may not blend perfectly with everything.

If you are new to using CBD, you may want to take a smaller dose initially and work up to the full 50mg of CBD as your tolerance level increases. On the other hand, those who are experienced users of CBD could benefit from raising the dose over time; however, it is always best to use caution when taking higher doses to avoid any negative side effects. Any negative effects caused by too much CBD are very mild and normally only present as dry mouth or red eyes. Just remember that these effects are only temporary and will wear off with time. 

How to Store CBD Oil Tincture?

It is best to store our Peppermint CBD Tincture in a cool, dry place and away from direct sunlight. Our tinctures come in darkened glass bottles, so there is a barrier between the oil and light that works to preserve its potency and integrity. It is best to completely close the bottle after every use to avoid spills or contamination. The temperature is also an important aspect of storage because you do not want it to be too cold or too hot. This is because extreme temperatures have the potential to damage the bottle or the tincture itself.

FAQs About CBD Peppermint Tincture

Q1. What is CBD peppermint oil good for?

Our Peppermint CBD Tincture is great for several different uses. CBD products in general can be very effective for soothing stress and relieving mind fog, and many people use them to calm their nerves on a daily basis. CBD may also work to ease chronic aches, and some have even used CBD tinctures to improve things like appetite and sleep. 

Since our Peppermint CBD Tincture is fast-acting, provided you take it sublingually, you can experience relief basically at the onset of symptoms. This proves to be beneficial for a wide variety of people with differing ailments. So whether you are aching, are overcome by stress and mind fog, or just need a little help getting sound sleep, CBD oil can be an effective solution. 

Q2. How do you feel after taking CBD tinctures?

After taking a dose of CBD tincture, you should wait at least 45 minutes to feel the full effects. Our Peppermint CBD Tincture contains full-spectrum CBD, so you will experience what we in the cannabis industry call, "the entourage effect." This means you will feel more potent and stronger effects than if you were to take an oil that has broad-spectrum CBD or CBD isolate. Since CBD is naturally low in THC, you will not experience psychoactive effects, or feel "high". However, you can expect to feel an overall sense of calm and relaxation, and perhaps even enhanced focus. If you suffer from chronic aches, you may find relief after taking a dose of CBD tincture. Additionally, you may find it to be helpful for a variety of concerns you deal with, whether it be occasionally or on a daily basis.  
Product
Ratings & Reviews
Here's what customers think about Peppermint CBD Tincture:
The product was hot when I reeved it so i don't know if that affected the potency.
Good product, but logistics lacking.
I've had two orders so far. First time was the wrong product, second time the full address was not included on the package... However, the tincture itself if great.
Full Spectrum
I like the flavored over the natural, and the 1500mg is helping with aches and pains.