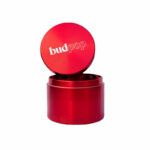 4-layer Cherry Red Budpop Grinder
$

40.00

—

or subscribe and save

25%
4-layer Cherry Red Budpop Grinder
$40.00 — or subscribe and save 25%
Medical grade, ultrasonically cleansed anodized aluminum
4 Layer w/ kief catcher
Custom designed in USA
Free Fast Shipping
Top quality rare magnet in lid
In stock
Description

Prepare your flower to perfection with our Budpop grinder. Not all grinders are made alike, our premium grinder has sharp teeth, ideal grip and keeps the process of enjoying your bud quick and easy. This product is durable, made from aluminum.
Product
Ratings & Reviews
Here's what customers think about 4-layer Cherry Red Budpop Grinder:
High Quality
This is a well-made, high quality grinder. A quick and effortless way to shred your stuff. Highly recommend!
Wood is preferred
::: Although appreciated as a gift, I'd rather have any & or all item's Abel to be crafted from wood & or natural object's be made from as such. Please & thank you.