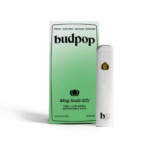 CBD Broad Spectrum + Live Resin 2G Disposables (1000 mg) – Louis VIII
$

54.95

—

or subscribe and save

25%
CBD Broad Spectrum + Live Resin 2G Disposables (1000 mg) – Louis VIII
$54.95 — or subscribe and save 25%
With BudPop's broad spectrum live resin disposable vaporizers, you can enjoy the benefits of CBD and other cannabinoids. Our live resin disposables are ideal for those looking for a relaxing and enjoyable vaping experience.
Description

CBD Live Resin Disposables

When you need convenience but don't want to miss out on flavor and potency, reach for one of our CBD Live Resin Disposables. Live resin lets you enjoy the full spectrum of hemp's benefits and supercharges your CBD (Cannabidiol) with a variety of other beneficial hemp plant compounds. Put that in a handy all-in-one vaping device, and you've got everything you need to get the most out of your CBD! Let's explore the details of our CBD Live Resin Disposables, how they work, and how you can get the best out of your vape.

What Are CBD Live Resin Disposable Vapes?

CBD Live Resin Disposable Vapes are handheld vaporizers that combine a battery and vape tank in a single device. The tank is pre-filled with CBD, live resin, and strain-specific natural terpenes. Disposable vapes are great for enjoying directly out of the packaging, as you don't have to charge a battery or attach a cartridge. Once the tank is depleted, throw the entire vape away.

How Do CBD Live Resin Disposables Work?

The battery in a CBD Live Resin Disposable provides power to a heating element, which vaporizes the oil inside the vape tank. As the oil vaporizes, you can inhale from the mouthpiece to enjoy the benefits of CBD Live Resin. Most disposable vapes are draw-activated, meaning that the device only activates while you inhale from it. With no buttons to press, disposables are an easy-to-use, fast-acting way to enjoy the potent benefits of CBD and live resin at home or on the go.

How to Vape CBD Live Resin Disposable Vape Pens?

The best thing about CBD Live Resin Disposable Vapes is how easy they are to enjoy! As the most convenient vaping option available, they don't require any charging or require button activation.

To get CBD live resin's delicious flavors and benefits, take your chosen vape out of its packaging and start inhaling! All our CBD Live Resin Disposable Vapes are draw-activated, so vapor production only begins when you inhale from the mouthpiece. CBD Live Resin Disposables are perfect for discreet consumption and easily transported, so you can enjoy an explosion of flavor and potency wherever you are!

Ingredients of CBD Live Resin Disposable Vapes

Our CBD Live Resin Disposable Vapes contain hemp-derived broad-spectrum CBD, full spectrum live resin extract, and natural terpenes. Our disposables never contain any additives or filler materials. There is no PG, PEG, VG, or MCT oil in them.

The three ingredients in our CBD Live Resin Disposable Vapes are:

Hemp-derived Broad Spectrum CBD Distillate: We source our CBD from premium, USA-grown hemp and use safe, clean, and proven extraction methods to obtain it in its purest form.
Live Resin Hemp Extract: Our live resin extract is rich in cannabinoids and terpenes and captures the full spectrum and flavor of hemp. This potent concentrate comes from hemp flower frozen at the peak of freshness, which preserves valuable hemp plant compounds that would otherwise be lost through traditional harvesting procedures.
Natural Terpenes: Our CBD Live Resin Disposable Vapes contain natural terpenes for more authentic, strain-specific flavors and aromas. We never use any synthetic flavors.

Our CBD Live Resin Disposables are made from USA-grown hemp plants that contain 0.3% Delta 9 THC or less. This makes all our disposables federally legal and compliant with the requirements of the 2018 Farm Bill, which legalized all hemp and hemp-derived products in the United States as long as they don't surpass the 0.3% THC threshold. To verify the contents, purity, and potency of each disposable vape, they are tested by a third-party laboratory. These results are presented to consumers in the form of a Certificate of Analysis (COA), which they can view on our website.

Disposables vs. Non-disposable Vapes

Disposable vapes give you maximum convenience and have an easier learning curve than non-disposable vapes. Whereas non-disposable vapes usually require separate vape cartridges and batteries, which are then connected before consumption, disposable vapes combine the battery and pre-filled vape tank into one device and are typically activated upon inhalation from the mouthpiece.

Non-disposable vapes are often button-operated, requiring a preset number of clicks to turn them on and activate the heating element to produce vapor. However, if you like to try different flavors, non-disposable vapes allow you to easily swap out vape carts so you can discover new strains.

If you're a fan of vaping and do it quite often, it's recommended that you get yourself a high-quality battery and take advantage of the many vape cart flavors available for your enjoyment. Disposables are great for first-timers who are just getting into vaping or those who vape occasionally. Both disposables and non-disposables have their advantages. At the end of the day, it all comes down to what you prefer when it comes to your vaping needs.

Dosage Recommendations for CBD Live Resin Disposables

We always suggest following the guidelines on your CBD Live Resin Disposables packaging. The correct dosage for vapes is subjective and dependent on several factors unique to each individual and their experience with CBD live resin products.

We recommend starting with a brief, three-second inhale from your CBD Live Resin Disposable. Hold the vapor in for a moment and then exhale. Wait about 15 minutes to see how you feel before taking another hit. Repeat this process until you feel satisfied, but don't overdo it.

Consuming responsibly is important to get the most benefits from vaping. While overconsuming can cause unwanted side effects, you can avoid them if you stay within your personal consumption limits. If you overdo it, you may feel lethargic and have dry eyes or mouth. These mild side effects are temporary and pass swiftly once you stop consuming. When in doubt, start low and go slow!

Storage Guidelines — CBD Live Resin Disposables

The most important thing for the longevity of your CBD Live Resin Disposable is to keep it in a cool, dark place away from direct sunlight. Disposable vapes should also be stored vertically so that the oil stays in the right position for vaporizing. Ensure that this is somewhere that pets or children cannot access.

Finally, avoiding exposing your disposable vapes to extreme cold or heat is crucial. Keep them at room temperature at all times. The oil inside the vape tank may become more solid or lose potency when the temperature changes radically. Follow these tips and enjoy your disposable vapes down to the last draw!
Product
Ratings & Reviews
Here's what customers think about CBD Broad Spectrum + Live Resin 2G Disposables (1000 mg) – Louis VIII: