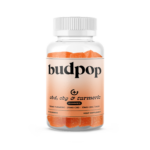 CBD + CBG Turmeric Gummies
$

59.95

—

or subscribe and save

25%
CBD + CBG Turmeric Gummies
$59.95 — or subscribe and save 25%
Turmeric & Black Pepper Extract for Recovery
25mg CBD, 10mg CBG & 100mg Turmeric per Gummy
Vegan Friendly
High Quality & Non-GMO
Third-Party Lab Tested
Made in the USA
Free Fast Shipping
Description

About CBD Gummies

 

By combining CBD and CBG with the rejuvenating effects of turmeric and black pepper, our CBD + CBG & Turmeric gummies are formulated to support your recovery. Each orange-flavored gummy contains 25mg CBD and 10mg CBG to give you the best blend of cannabinoid benefits. As an added bonus, we also included 100mg of turmeric and 0.5mg of black pepper extract to reduce inflammation and soreness. BudPop has the best collection of CBD Gummies for pain.

All of our CBD gummies are made from organic, non-GMO hemp grown in the U.S. As a result, the extracts we use are some of the highest quality available. Our gummies are also formulated using pectin instead of animal by-products such as gelatin, making them vegan-friendly and suitable for a range of diets. Moreover, thanks to natural flavors, our gummies have a delicious orange taste, so you are never ingesting unneeded additives or fillers with these gummies. We believe quality assurance matters most when creating products for our customers, which is why we submit all products for third-party lab testing and make these results available publically. So if you are looking for recovery support gummies that are pure and great-tasting, give these a try.

Each bottle of our CBD + CBG & Turmeric gummies contains 30 pieces for $59.95. If you are already a fan of the product, try our bulk offers for a three-pack or five-pack of bottles. No matter the size or price of your order, we offer free, fast shipping and a 30-day money-back guarantee. If you are still on the fence about trying any of our products, keep in mind that we offer a 20% first-order discount as well.

CBD + CBG Gummies: Ingredients  

Organic Turmeric Extract:

Turmeric contains natural

anti-inflammatory compounds

that may help reduce acute cases of inflammation. Because many health conditions are related to inflammation, turmeric may be a helpful supplement to your diet.

Hemp Extract – CBD:

Abundantly found in the cannabis plant, cannabidiol (CBD) carries the myriad of health benefits associated with the cannabis plant without the psychoactive effects of THC. 

Hemp Extract – CBG:

While not as common as CBD,

cannabigerol (CBG)

is often paired with CBD for added effects.

Black Pepper Extract:

Full of antioxidants,

black pepper

has many health benefits, including reducing inflammation and promoting digestion. It also increases the bioavailability of other compounds, allowing your body to absorb them better.

Pectin:

We offer only vegan-friendly gummies by utilizing fruit-based pectin instead of gelatin, a popular animal byproduct in chewy treats. Pectin helps our gummies retain their signature texture while also being appropriate for a range of diets and lifestyles.

Sunflower Oil:

This ingredient improves the consistency of our gummies and provides additional

health benefits

.

Additional Ingredients:

Other ingredients used in our formula include sugar, tapioca syrup, water, natural flavorings, sodium citrate, and sodium acid sulfate.

How Many Gummies Should I Take?

 

While optimal dosing depends on many factors that are unique to each individual, we have taken some of the difficulty out of the equation with our 25mg gummies. As a general recommendation, we suggest that you take one gummy every six hours or as desired. However, before including our gummies in your daily regimen, consider your age, weight, metabolism, and experience with CBD products. New users may benefit from cutting a gummy in half and waiting 45 minutes to evaluate its effects. Keep in mind that gummies must be digested and may take a while to take effect. But if needed, you can increase your dose the next time you want a gummy. On the other hand, experienced users with higher tolerances may prefer to take two gummies every six hours.

The best practice is always to start with a smaller dose than you believe you need and slowly increase from there. CBD is not usually associated with negative side effects, but dry mouth or red eyes may result from consuming too much. If you experience these symptoms, remember that they are temporary and will wear off shortly. Consider reducing your dose the next time you take them.

CBD Gummy Cubes – How to Store?

We make storing our gummies a very simple process by shipping them in high-quality bottles. These are airtight and designed to keep your gummies as fresh as possible and free from any contaminants. Keep the bottle in a cool, dry place out of direct sunlight to preserve the potency of the gummies. If you follow these directions, our gummies have a shelf-life of 12 months.

If you need to take your gummies with you throughout the day, place a few gummies in an airtight container. Be sure not to leave the container in direct sunlight or an area that is too hot or humid, as the gummies may melt or develop an unpleasant consistency. Overall, you will find that gummies are convenient and discreet whether you use them at home or on the go. 

FAQs About CBD

Q1. What are the benefits of CBD and CBG?

CBD and CBG are individual cannabinoids found in the cannabis plant. While CBD is more prevalent than CBG in the plant, both may have many advantages. 

When consumed together, CBD and CBG combine to provide a heightened experience. They work synergistically to provide greater benefits than you would receive by taking each one individually. This way, you receive the maximum benefit of these compounds.

Q2. Do the CBD + CBG gummies help with pain?

Our recovery gummies are formulated with specific ingredients that have been scientifically proven to be beneficial for the body. We use organic turmeric extract containing 95% curcuminoids, the compounds included in this compound that directly affect inflammation. In addition, we added black pepper extract, which has its own anti-inflammatory and antioxidant properties and works to increase the absorption of other ingredients. Although research is still ongoing, CBD & CBG are not intended to prevent, treat or cure any ailments or diseases. It is always best to consult with your healthcare professional before using any products.

Q3. Does CBG get you higher than CBD?

No, neither CBD nor CBG has psychoactive properties on its own. The "high" associated with marijuana is caused by an entirely different cannabinoid — tetrahydrocannabinol, or THC. As the primary psychoactive compound in cannabis plants, THC is almost entirely responsible for getting users high.

While some CBD products may contain trace amounts of THC, our products are made using 100% legal U.S. hemp with less than 0.3% delta-9 THC. As a result, our CBD + CBG & Turmeric Gummies will not get you high and instead are formulated specifically for recovery from physical exertion.

Q3. Where can I buy CBD Gummies for pain?

At Budpop you can buy the best quality of CBD Gummies with a variety of flavors to choose from.
Product
Ratings & Reviews
Here's what customers think about CBD + CBG Turmeric Gummies:
Very helpful
This has helped my relieve most of my abdominal pain, digestion and inflammation in my stomach.
CBD/CBG Gummies
The taste is a bit hard to accept but I am going to continue with the product due to the positive effects with the anti-inflammatory benefits.
CBD + CBG Turmeric Gummies
CBD + CBG Turmeric Gummies
Best CBD gummy bear
The turmeric cbd gummy wear works wonder
Keep up the great work