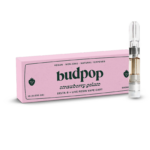 Delta 8 + Live Resin 1g Vape Carts (800 mg) – Strawberry Gelato
$

44.95

—

or subscribe and save

25%
Delta 8 + Live Resin 1g Vape Carts (800 mg) – Strawberry Gelato
$44.95 — or subscribe and save 25%
Get a truly unique and potent vaping experience with BudPop's delta 8 live resin cartridges. High in delta 8 THC and other cannabinoids, these live resin carts are perfect for those looking to try something new and exciting
*** We do not ship to the following states: Arizona, Arkansas, California, Colorado, Delaware, Idaho, Iowa, Mississippi, Montana, Rhode Island, and Utah. ***
Description

Delta 8 Live Resin Cartridges

Our Delta 8 Live Resin Vape Carts are a potent, fresh-tasting way to enjoy all the benefits of Delta 8 Tetrahydrocannabinol (Delta 8 THC, Delta 8, or D8) and live resin. These hemp-derived D8 live resin vape cartridges appeal to anyone seeking the freshest, most powerful Delta 8 experience imaginable.

But let's not put the cart before the horse, so to speak. If you're new to vaping Delta 8 or live resin, it's good to understand what you're about to experience. Chances are, it's unlike anything that you've previously enjoyed. That's why our Delta 8 + Live Resin 1g Vape Carts appeal to both experienced enthusiasts and ordinary consumers alike.

What Are Delta 8 Live Resin Carts?

A Delta 8 Live Resin Vape Cartridge is a small glass cylinder that contains pre-filled, hemp-derived Delta 8 THC and live resin extract along with a flavorful blend of natural terpenes. They're really simple to use, thanks to their universal 510-thread connection. Just screw them onto your vape pen battery, and you're ready to go. This tiny piece of glass is like Cinderella's glass slipper — it's the right fit. After the first hit, your world changes for the better, and you're now living in your own dreamy fairy tale.

Vape carts are a convenient, discreet way to enjoy the potent, tastebud-pleasing effects unique to Delta 8 live resin. Our tank comes loaded with natural terpenes and delivers authentic strain-specific flavors and scents. It's enough for a few hundred trips to fantasyland.

How Do Delta 8 Live Resin Vape Cartridges Work?

Vape cartridges work by using a heating element to vaporize the liquid oil in the cart. That's why you need a separate battery; it provides the power to get your juices flowing. Keep in mind that the battery needs charging before use, or the cart won't reach the proper temperature to turn the oil into vapor.

The standard vape cart has three main parts to it, all of which work together to vaporize the liquid in your cart and turn it into rich, velvety vapor for you to inhale and enjoy:

Atomizer: The heating unit that vaporizes the vape juice.
Chamber: A clear glass tank in the vape cartridge that houses the vape juice. Most vape carts use a 510-thread connection that works with nearly all the vape batteries on the market.
Mouthpiece: Where you can put your lips so you can safely inhale the vapor.

If you're new to vape carts, it's good to know that most USB rechargeable vape batteries come with on/off buttons for safety, so you can shut them off when done. This also keeps the vape pen from draining between sessions and saves battery life. Many batteries also have adjustable power settings, so you're in control of the temperature. Remember, batteries are generally sold separately from carts, so ensure you have at least one ready to go.

How to Vape Delta 8 Live Resin Vape Cartridges?

Vaping Delta 8 Live Resin Vape Cartridges is pretty straightforward and very easy to do. Some batteries have different on/off settings and functions, but the process typically goes like this:

Attach: Connect the battery to the vape cart by twisting it clockwise. Keep twisting until you can't turn it any further to ensure a solid connection.
Activate: Press the button on the battery. Some require multiple pushes of a fire button to turn on/off.
Wait: The distillate oil usually takes a few seconds to reach peak vaping temperature. Most batteries have an indicator light showing that it's preheating.
Inhale: Place your lips around the cart's mouthpiece, press the button on the battery again, and inhale the tantalizing, potent D8 live resin vapor. If you don't breathe out any vapor, chances are the battery didn't heat the oil and needs charging, or the cart chamber is empty. Take a look and see what's up.
Enjoy: Hold the delicious vapor in your lungs for a moment or two. Then, exhale a cloud of dreamy goodness. Repeat until satisfied but without overconsuming.
Power Off: Turn off the battery unless it has an auto-shutoff feature or shuts off when you release the button after exhaling.

Ingredients of Delta 8 Live Resin Vape Carts

Our Delta 8 Live Resin Vape Carts deliver a perfect experience every time because we only use top-shelf, natural ingredients. You'll never find artificial ingredients or oils like MCT, PG, VG, or PEG in our carts. We keep it simple for outstanding, superior quality by using three simple ingredients.

Our Delta 8 Live Resin Vape Carts include:

Hemp-derived Delta 8 THC Distillate: Our premium distillate comes from USA-grown hemp and is extracted using safe and clean production techniques.
Live Resin Hemp Extract: Flash-freezing hemp flower immediately after harvest preserves peak natural potency and flavor. Cannabinoids and terpenes that would've been lost through traditional harvesting procedures are preserved through this method. Safe and clean methods are used to extract the live resin, making it a powerful addition to your vaping experience.
Natural Terpenes: We only use natural, fresh, and strain-specific terpenes in our D8 live resin distillate, which is why connoisseurs and new customers love our carts.

Dosage Recommendations for Delta 8 Live Resin Vape Carts

It's essential to keep in mind that vape carts contain concentrated, potent, and powerful Delta 8 and live resin extracts. In effect, a little goes a long way. We recommend taking a single, three-second draw to start, then waiting 15 minutes or so to see how you feel before enjoying another hit. Repeat until you're satisfied — but don't go overboard.

If you over-consume, you may feel temporary side effects such as dry eyes and mouth, an upset stomach, and drowsiness. Don't worry; they'll subside in a few hours, so relax and stay hydrated.

Storage Guidelines — Delta 8 Live Resin Vapes

To keep your Delta 8 Live Resin Vapes fresh and maximize longevity when they aren't in use, it's important that you store them properly. We recommend storing your vape cartridges upright in a cool, dry place out of direct sunlight. Make sure you store the vape cartridges in a place where children or pets cannot access them.
Product
Ratings & Reviews
Here's what customers think about Delta 8 + Live Resin 1g Vape Carts (800 mg) – Strawberry Gelato: