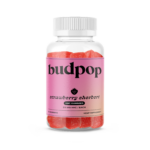 Strawberry Sherbert HHC Gummies
$

59.95

—

or subscribe and save

25%
Strawberry Sherbert HHC Gummies
$59.95 — or subscribe and save 25%
High Potency HHC Gummies
Vegan Friendly
High Quality & Non-GMO
Third-Party Lab Tested
Made in the USA
Free Fast Shipping
625MG of HHC THC
*** We do not ship to the following states: Arizona, Arkansas, California, Colorado, Delaware, Idaho, Iowa, Mississippi, Montana, Rhode Island, and Utah. ***
Description

About Strawberry Sherbert HHC Gummies 

With our exclusive line of BudPop products, we bring you the greatest variety of HHC gummies, the best of which is our Strawberry Sherbert HHC gummies. Utilizing the advantage of the high-quality sativa hemp strains, we bring you the best of both worlds. Here are strawberry-flavored HHC gummies that give you the flavor of fresh strawberries and the potency of sativa hemp strains. The highly potent HHC gummies by BudPop are known for giving an energizing and euphoric feeling altogether. Since these gummies are hybrid in nature, one can experience the effects of indica as well. 

However, HHC cannabinoids are known for their slightly low potency and, as such, are perfect for those who are beginners. Other cannabinoids are comparatively stronger and are advised for regular cannabis consumers only. But, HHC gummies by BudPop offer a perfect blend between moderate potency and strong effects. Simply put, they land somewhere in the middle. One can experience an overall decent buzz of euphoria along with calmness and relaxation. 

Each bottle of Strawberry Sherbert HHC gummies has 25 cubes, each having a potency of 25mg of HHC. This means each bottle has 625mg of HHC, which is enough for one person to use for a prolonged period. One should note that these HHC gummy cubes are 100% free from animal gelatin, which makes the product completely vegan-friendly. The hemp is extracted in the U.S. using natural methods with the help and support of local artisans and farmers. In addition, these products are free from any hazardous chemicals, pesticides, and GMOs. All in all, you are buying 100% potent and natural products from us. 

A single pack of Strawberry Sherbert HHC gummies costs $59.95. You can also get a three-pack for $179.95 and a five-pack for $299.95. On our site, one can avail of free shipping and an additional 30-day money back guarantee. Also, people can subscribe with us and save another 25%, and there are additional discounts available for first-time users.

Ingredients Of Strawberry Gummies

Natural Food Coloring:

To give the gummies a natural strawberry color, we use natural food coloring. 

Pectin:

Since we make all our products 100% vegan-friendly and natural, we use the component pectin instead of animal gelatin.

Plant Derived-Terpenes:

All terpenes used in our products are derived from hemp plants. 

Other Ingredients:

There are other ingredients available as well such as sugar, sunflower oil, and corn syrup, among others. 

Dosage Recommendations For HHC Gummies

To avoid overdosing on HHC products at any time, it is advisable to stick to the recommended dosage guidelines provided by the manufacturer. We recommend taking no more than one to two gummies every six hours. However, you should take note that these edibles first have to pass through the digestive system before they are absorbed into the bloodstream, which is when users obtain that feeling of euphoria and relaxation. With the help of extensive research by our experts and real-time feedback from our valuable customers, it is said that our potent HHC gummies take at least 45 minutes to be fully absorbed into the bloodstream and take effect. 

The above-mentioned recommendations are based on the fact that the consumer is an expert in consuming edibles. However, if you are a beginner to HHC, or cannabis in general, we recommend that you start by consuming only half of a gummy. For this, you can easily slice these gummies and start your consumption. 

We have this section for you because consuming these gummies beyond your personal capacity may produce adverse effects. Side effects may include feeling tired and experiencing indigestion, among several other health-related problems. Along with these, one may also have a dry mouth, red eyes, and an increased heart rate. 

Storage Guidelines

Every bottle of HHC gummies sold by us has a shelf-life of around 12 months from the manufacturing date. You can transfer the gummies from our bottle to an airtight container for prolonged storage and infrequent use. Also, try to keep these gummies in a cool and dry place. As such, refrigerating these gummies can be your best option. 
Product
Ratings & Reviews
Here's what customers think about Strawberry Sherbert HHC Gummies:
first time having hhc
first time having hhc and i liked it 10/10
We're so glad you enjoy our HHC products!
delicous
great tasting gummys help me get to sleep
Fantastic, Sug! Pleasant dreams!
SO GOOD!
Love these!! work great, short lived but so worth the $.