Lately, CBD is being used for a variety of reasons to improve overall well-being. However, there is one area of our lives that CBD can prove to be immensely helpful — sleep. Many struggles with either falling asleep, staying asleep, or getting on a good, healthy sleep schedule. Sleep deprivation is a serious issue that affects your life in more ways than one. 
Our bodies need sleep to function at their best, and if you are facing issues in this area, your quality of life is likely to struggle. But, CBD gummies that are specially formulated with sleep-enhancing ingredients have now hit the market to combat this problem that so many faces on a daily basis. Read on to learn more about the best CBD gummies for sleep and where you can buy them.
What Are CBD Gummies?
CBD gummies are simply regular gummies that are infused with CBD, also known as cannabidiol. But, what is CBD exactly? CBD is a cannabinoid found in the cannabis plant, but unlike the well-known delta-9 THC (the compound in cannabis that makes you high), CBD is non-intoxicating, meaning you will not get high from taking it. Instead, CBD offers a number of benefits, which we will discuss later.
Are CBD Gummies Legal?
Fortunately, with the passing of the Farm Bill in 2018, CBD gummies became legal on a federal level. However, there are two stipulations to this. For one, the CBD must come from industrial hemp, not marijuana, and the product must contain less than 0.3% delta-9 THC. So if a product meets these guidelines, it is legal to buy, sell, possess, and use in the U.S. 
One of the key distinguishing factors here is the type of cannabis plant the CBD is sourced from. If it is sourced from hemp, which is naturally high in CBD and low in THC, then it is legal. But, if it is sourced from marijuana, which is another type of cannabis plant naturally rich in THC, then it is illegal. This is because marijuana is still considered a controlled substance by the U.S. government. That is why you should always check the source of the CBD to make sure the brand you are buying from is operating within the law, meaning you are too.
At What Age Can I Buy CBD Gummies?
You either need to be 18 or 21 years of age to buy CBD gummies, depending on where you shop. When you shop online, such as with BudPop, you need to be 21 due to the fact that we also sell delta-8 THC products. This fact rings true for other brands that also sell THC goods. However, some stores (usually the ones exclusively selling CBD products) will only require you to be 18 years of age. So, look into the age requirements to ensure you are buying your CBD gummies legally. 
BudPop's CBD Gummies for Sleep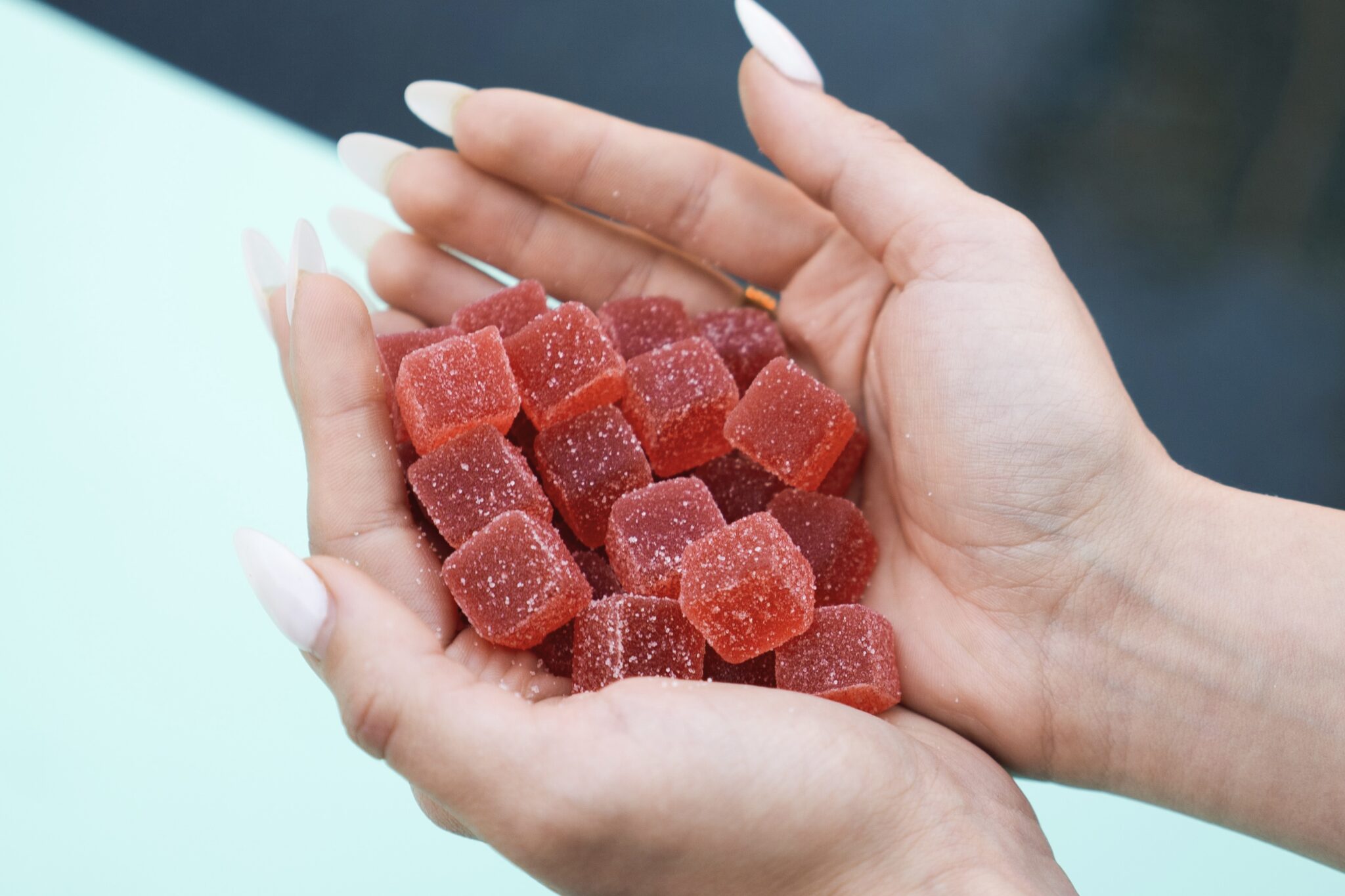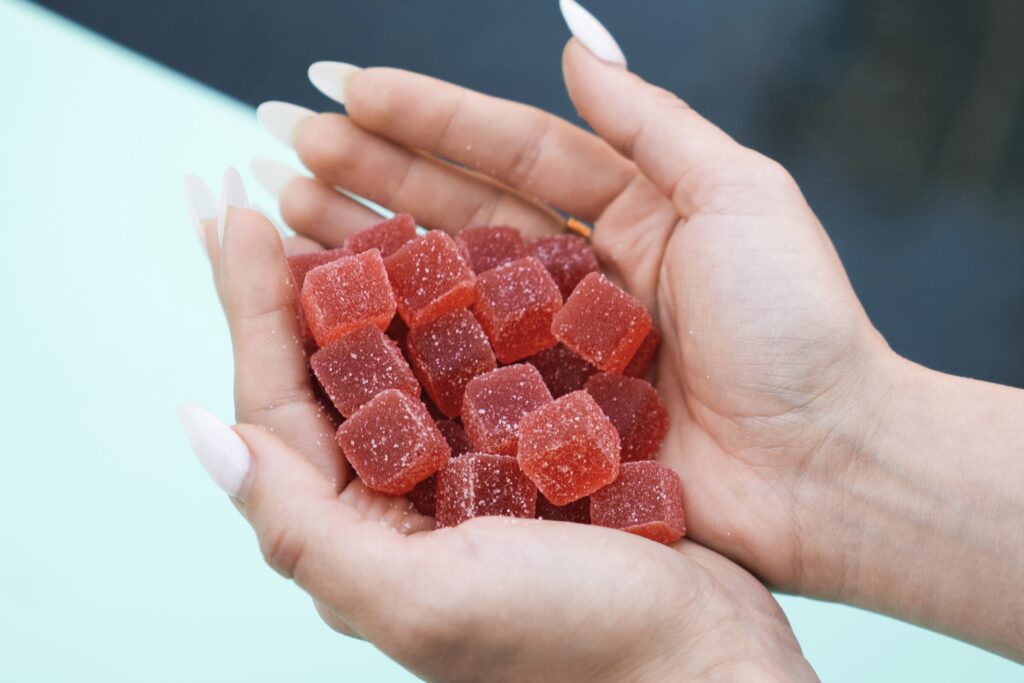 At BudPop, we offer a line of CBD gummies, each formulated to address a specific issue. One of our most popular products is our CBD + CBN Sleep Gummies (CBD Gummies for sleep), which contain broad-spectrum CBD and come in a delicious blueberry flavor. These cubed-shaped gummies are sourced from U.S.-grown, non-GMO hemp, and they contain no artificial additives or any other harmful ingredients. These gummies are naturally flavored and are third-party lab tested before being put up for sale, ensuring their quality, safety, and efficacy. 
Is CBD Gummy Good For Sleeping?
The benefits of CBD are almost too many in number to count, but how does CBD provide these? We all have a complex cell-signaling system called the endocannabinoid system (ECS) in our bodies. This system contains receptors all throughout the body, which help regulate a number of processes, including immune response, appetite, memory, mood, and, most importantly, sleep.
So, when you take a CBD gummy, it works its way through your digestive tract before being absorbed. While this results in delayed onset of effects (usually around an hour), when it does hit the bloodstream, it supports the ECS, producing the benefits we are all looking for, mainly improvement in our sleep cycles.
When using CBD gummies for sleep, you may notice other benefits besides improved sleep. These may include reduced pain and anxiety, increased appetite, and an enhanced sense of calm, among many others.
Are There Side Effects to Taking CBD for Sleep?
CBD is known to be a generally safe compound to consume, and although there is the possibility of side effects, they are mild and wear off with time. One side effect you may notice is sleepiness, which actually acts in your favor if you are looking to get a good night's rest. However, CBD may also cause dizziness, dry mouth, and thirst. But, these can be easily managed by staying hydrated. It is important to remember that if you do encounter these side effects after using CBD gummies, they will only last as long as the CBD is in your system.
As we mentioned, CBD gummies take some time to kick in since they have to pass through your digestive tract first. However, due to this, they often stay in your system longer, up to eight hours. So, if you notice any side effects from taking CBD gummies, you will only have to ride them out for this period of time. However, you can mitigate the risk of side effects by ensuring you take the correct dosage.
How Many CBD Gummies Should I Take For Sleep?
CBD products, including gummies, typically come with the manufacturer's recommendation for dosing right on the label. You can generally trust this recommendation to be accurate, but it is important to remember that everyone's body, tolerance, and needs are different. So, to be sure you are taking the right amount of CBD for you, you can go by the following general guidelines, which take into account your body weight. For a mild dose, take 0.10mg per pound, for a moderate dose, take 0.25mg per pound, and for a potent dose, take 0.50mg per pound.
If you follow these guidelines, you will likely avoid side effects and have a comfortable and rewarding experience with CBD.
Why Choose BudPop's CBD Sleep Gummies?
Our CBD sleep gummies at BudPop are unique because not only do they contain a potent dose of 25mg of broad-spectrum CBD, but they also have 10mg of CBN, another sleep-promoting cannabinoid, along with 3mg of melatonin. This results in a powerhouse gummy in a small, cubed-shaped form that is packed with beneficial compounds that are sure to help you drift off in no time, stay asleep throughout the night, and wake up feeling refreshed and rested. 
At BudPop, we try to cater to every individual's needs, which is why we chose to use pectin, which comes from fruit, over gelatin, which is sourced from animals, to give the gummies their chewy texture. This makes them suitable for vegans and vegetarians, unlike some other CBD gummies on the market.
Another reason to choose us for your CBD gummy needs is our customer-friendly policies. When you shop with us, you get free shipping and a 30-day money-back guarantee on every order, 20% off of your first purchase, the option to subscribe and save, or you can buy CBD gummies in bundles for an additional discount. This allows you to try our CBD + CBN Sleep Gummies essentially risk-free and at a steal.
Final Thoughts – Does CBD Before Bed Help You Sleep?
As you can see, CBD gummies can be an effective and safe solution to those who struggle with sleep issues. If you follow the dosing guidelines we set and buy from our brand, BudPop, you are likely to have a great experience with CBD gummies for sleep. Our CBD + CBN Sleep Gummies are specially formulated to help you get a good night's rest and wake up feeling well-rested. With our customer-friendly policies, you can even get our gummies at a discounted rate and with a 30-day money-back guarantee in case you change your mind.
So, whether you are just now starting to have problems with sleep or if you are looking for an alternative solution to prescription sleep medication, we have all that you need at BudPop.