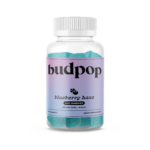 Blueberry Haze HHC Gummies
$

59.95

—

or subscribe and save

25%
Blueberry Haze HHC Gummies
$59.95 — or subscribe and save 25%
High Potency HHC Gummies
Vegan Friendly
High Quality & Non-GMO
Third-Party Lab Tested
Made in the USA
Free Fast Shipping
625MG of HHC THC
*** We do not ship to the following states: Arizona, Arkansas, California, Colorado, Delaware, Idaho, Iowa, Mississippi, Montana, Rhode Island, and Utah. ***
Description

About Blueberry Haze HHC Gummies 

We at BudPop, the #1 consumer-rated brand, want you to enjoy the best HHC gummies in the entire hemp market. With us, you have the option to choose from our wide range of HHC gummies, one of which is our Blueberry Haze HHC gummies. We employ high-quality sativa-dominant hybrid strains to mix the best of both worlds. Our blueberry-flavored HHC gummies are now available with the sweetness of fresh blueberries and the potency of sativa hemp strains. Our HHC gummies are highly potent, which give the ultimate feeling of euphoria and calmness. The strain used for these gummies is a hybrid, so you will also enjoy the effects associated with indica as well, including calm and relaxation.

HHC strains are known for their balanced potency, which lands somewhere between delta-8 THC and delta-9 THC. Because of this, our HHC gummies are a great choice for those who are just beginning with cannabinoids. 

Our Blueberry Haze HHC gummies come in a bottle with 25 gummy cubes, each with a concentration of 25mg of HHC. This means that each bottle contains 625mg of HHC, enough for one person to use for a long time. It is worth noting that these HHC gummy cubes are entirely vegan-friendly because they do not include any animal gelatin. Moreover, the hemp used to make these gummies is sourced from the best farms in the United States, making it of the highest quality. To further this level of quality, these goods are devoid of harmful chemicals, pesticides, and GMOs. 

A single pack of Blueberry Haze HHC gummies costs $59.95. Additionally, the three-pack costs $179.95, while the five-pack costs $299.95. We provide both free shipping and a 30-day money back guarantee on our website to all. Customers can also sign up for a subscription with us and save another 25% on recurring orders, and additional discounts are available for first-time users. Because our HHC gummies are so affordable, people love them. 

Ingredients Of Blueberry Haze Edibles

Natural Food Coloring:

We utilize natural food coloring to give the gummies a natural blueberry color.

Pectin:

Instead of using animal gelatin, we utilize pectin, making all of our goods vegan-friendly and natural.

Plant-Produced Terpenes:

We employ terpenes derived from hemp plants in all of our products, which adds to their aroma and flavor.

Other Ingredients:

Other ingredients such as sugar, sunflower oil, and corn syrup are used as well.

Dosage Recommendations

With HHC gummies, it is important to stick to the specified dosage to avoid overdosing. The best usage guideline is to consume no more than two gummies every six hours. To achieve that feeling of exhilaration and relaxation, these edibles must first be digested before being absorbed into the bloodstream and taking effect. Our powerful HHC gummies are reported to take at least 45 minutes to properly absorb into the bloodstream, based on comprehensive research by our specialists and real-time feedback from our loyal clients.

However, if you are new to the game, we recommend starting with half of a gummy at a time at regular intervals. Since you can simply cut the gummies for this, you can even take less if needed. So, you can easily customize the dosage to your needs.

But if you do happen to take too much, you can expect feelings of tiredness and indigestion, among others, as side effects. 

How to Store HHC Gummies?

Every bottle of HHC gummy cubes we sell has a shelf-life of about 12 months from the date of manufacture. If you are not going to consume the gummies right away, you can transfer them from our bottle to an airtight container for long-term storage. Also, keep these gummies in a cool, dry location, ideally the refrigerator.
Product
Ratings & Reviews
Here's what customers think about Blueberry Haze HHC Gummies:
Best sleep ever
No groggy feeling in the morning, which has been my complaint with other companies, and there no to sugary which I like. Great for sleep
rlly good HHC, first time having and it was great