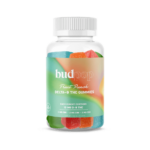 Fruit Punch Delta 9 THC Gummies
$

89.95

—

or subscribe and save

25%
Fruit Punch Delta 9 THC Gummies
$89.95 — or subscribe and save 25%
High Potency Delta 9 THC Gummy Cubes

15mg Delta 9 THC per Gummy

2mg CBC, 2mg CBG & 2mg CBN per Gummy

Blueberry, Kiwi, Mango, Strawberry & Watermelon Flavors

Hemp-Derived & Farm Bill Compliant

Made in the USA

Vegan Friendly

High Quality & Non-GMO

Third-Party Lab Tested

30 Count
*** We do not ship to the following states: Arizona, Arkansas, California, Colorado, Delaware, Idaho, Iowa, Mississippi, Montana, Rhode Island, and Utah. ***
Description


ABOUT DELTA-9 THC GUMMIES

Ready, set, FLY! BudPop's 15mg Delta 9 THC Gummy Cubes will make your mind, body, and spirit soar like never before! Each bite-sized fruit snack is jam-packed with 15mg of potent, hemp-derived Delta 9 THC that will unlock your mind with a euphoric boost of inspiration. 

The swirling, uplifting sensations of D9 are balanced by a full-body calm that will keep you from floating away. Adding to this blissful experience is the combined cannabinoid power of CBC, CBG, and CBN to help optimize your general well-being.

 And with an assortment of natural fruit flavors like blueberry, kiwi, mango, strawberry, and watermelon in every bottle ready to greet your taste buds, you'll make this D9 experience into one you'll never forget!
Product
Ratings & Reviews
Here's what customers think about Fruit Punch Delta 9 THC Gummies:
Why the change?
Why did you reduce the THC mg from 20 mg to 15 mg and yet charge the same price? Not good.
really helped me fall asleep
had some struggles falling asleep, these did the job
Twilight Bliss
Have been using the Delta 9 THC gummies for a few months. Love them as they give me a good nights sleep.