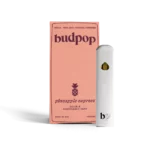 Delta 8 Disposable Vape Pen – Pineapple Express
$

39.95

—

or subscribe and save

25%
DELTA-8 DISPOSABLE VAPE PENS
Sale!
Delta 8 Disposable Vape Pen – Pineapple Express
$39.95 — or subscribe and save 25%
Disposable – No set-up, refill or recharge needed
1800mg of Delta-8 THC which will give close to 700 hits
Made With Natural Terpenes
Additive-Free (NO PG, VG, PEG, or MCT Oil)
Third-Party Lab Tested
Made in the USA
Free Fast Shipping
*** We do not ship to the following states: Arizona, Arkansas, California, Colorado, Delaware, Idaho, Iowa, Mississippi, Montana, Rhode Island, and Utah. ***
Description

About Pineapple Express Delta-8 Disposable Vape Pen

Feel at ease and ready to mingle with this pocketful of sunshine. Each inhale of our Pineapple Express strain makes you feel like you're on a tropical getaway, giving you a mellow, energetic buzz that clears your mind and sparks your creativity. It provides calming effects and a fruity, summer-inspired taste thanks to plant-derived terpenes.

Delta-8 vapes are a popular method of taking delta-8. This is due to the fact that they are portable and convenient, like gummies and tinctures, but the effects kick in quickly, similar to smoking delta-8 flowers. So, you could say you get the best of both worlds with our Pineapple Express delta-8 vapes.

Each pen contains 1,800mg of delta-8 THC, which means they are good for close to 700 hits. Our vapes also do not contain any cutting agents, such as MCT, PG, PEG, or VG oil. Before being put up for sale, they are also tested by an independent lab, which analyzes the contents for contaminants, heavy metals, and excess amounts of delta-9 THC, among other things. As a result, we can ensure you are only getting pure delta-8 distillate when you use our vapes, making them inherently safe to use.

Since our Pineapple Express delta-8 vapes contain less than 0.3% delta-9 THC, they are also legally compliant under the U.S. federal Farm Bill. Therefore, you are welcome to take them wherever you go and get your dose of delta-8 at your convenience, provided it is legal in your state.

Ingredients Of Delta 8 THC Disposable Vapes

The ingredients in our Pineapple Express delta-8 disposable vapes include the following:

Delta-8 THC: A potent 1,800mg of delta-8 THC gives you a strong dose of relaxation every time you take a puff.
Natural Terpenes: We also incorporated natural, strain-specific terpenes derived from the hemp plant in our vape pens, which gives this flavor its fruity, tropical aroma.
Natural Flavors: When you use our Pineapple Express vape, you will notice a sweet pineapple taste, which is due to the natural flavors we included in the distillate liquid.

Disposable vs. Non-Disposable Vapes

Many people ask if they should go with disposable vapes or cartridges. Disposables are great for beginners and people just getting into vaping, and they're less expensive in a one-time purchase than a rechargeable one.

They are designed so that the battery and cartridge expire at roughly the same time. So when your vape is done, you just throw it away. Disposables also have better portability, as they do not require any charging or assembly.

If you're more experienced with vaping, disposables don't offer the same level of control as cartridges, but they're popular because of their slim design, flavor choices, and lightweight portability.

Accurate Dosage For Delta 8 Vape Pens

As tempting as it can be to go overboard with Delta-8 vape pens, it is important to moderate your usage and not exceed the recommended dosage guidelines. For our Pineapple Express vape pen, we suggest taking one three-second draw to start. Since the delta-8 is inhaled, your lungs absorb it almost immediately, providing near-instant effects. So after you take one three-second hit, you should wait for about 10-15 minutes to feel the full effects. If you still are not satisfied, you can go for another draw. 

If you are an experienced delta-8 user, however, you may need to take more to feel any effects. Despite this, though, you should still proceed with caution, as it is easy to take too much without knowing it. If you do end up taking more than your body can handle, you may feel some mild side effects, such as red eyes, dry mouth, and anxiousness. It is important to remember that these symptoms are only temporary, as the effects of vaping tend to wear off quickly. As such, you have nothing to worry about — just make sure to use the general guidelines as a starting point. 

Storage Guidelines – Delta 8 Vape Pens

Each of our vape pens are good for a little under 700 draws, and as such, you must store it properly to ensure it lasts as long as it is intended to. Per our recommendations, you should keep the pen in a cool, dry place away from sunlight. This is to make sure the potency of the distillate and the integrity of the cart itself is preserved. Additionally, we suggest keeping it upright when you are done with it, as this prevents the liquid from leaking out. It is also important to make sure you do not expose it to places that are susceptible to extreme temperatures, such as your car where it could freeze overnight or get too hot during the day. All in all, you want to protect your vape pen as much as possible to get the best possible experiences out of it.
Product
Ratings & Reviews
Here's what customers think about Delta 8 Disposable Vape Pen – Pineapple Express:
Great taste good little buzz
Great taste
The pineapple express tastes great. Takes a minute or two to hit you, but after 2 solid pulls you'll feel it. Just make sure u keep it oriented with the mouth piece up at all times because eventually it will clog if you don't. 2nd disposable vape pen purchase, and there will be more.
Premium delta
The taste is great & taste like pineapples like the name. I D8 all day everyday. I tried all brands. This is 3x more potent than 3Chi & thats sayin a lot