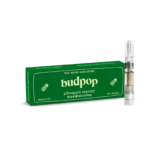 Pineapple Express Delta 8 THC Vape
$

49.95

—

or subscribe and save

25%
Pineapple Express Delta 8 THC Vape
$49.95 — or subscribe and save 25%
900mg of Delta-8 THC
Made With Natural Terpenes
Additive-Free (NO PG, VG, PEG, or MCT Oil)
Third-Party Lab Tested
Made in the USA
Free Fast Shipping
*** We do not ship to the following states: Arizona, Arkansas, California, Colorado, Delaware, Idaho, Iowa, Mississippi, Montana, Rhode Island, and Utah. ***
Description

Feel at ease and ready to mingle with this pocketful of sunshine. Each inhale of our Pineapple Express strain makes you feel like you're on a tropical getaway.

Take a hit and feel a mellow, energetic buzz that clears your mind and sparks your creativity, allowing you to focus on what's right in front of you.

Enjoy a fruity, summer-inspired taste & pleasant aroma thanks to its all-natural, plant-derived terpenes.

The ingredients in our Pineapple Express delta-8 vape carts include the following:

Delta-8 THC: We included a whopping 800mg of delta-8 THC in our 1ml vape carts, giving you a strong dose of relaxation every time you take a puff.
Natural Terpenes: We also incorporated natural, strain-specific terpenes derived from the hemp plant in our vape carts, which gives this flavor its fruity, tropical aroma.
Natural Flavors: When you use our Pineapple Express vape carts, you will notice a sweet pineapple taste, which is due to the natural flavors we included in the distillate liquid.

Accurate Dosage For Delta 8 Vape Carts

Although vape carts boast alluring flavors, it's essential not to overdo it. For our Blackberry Kush carts, we propose taking one three-second draw to start out. Delta-8 is breathed in and immediately absorbed by your lungs, resulting in immediate effects. Once you take one three-second hit, wait for the full impacts to settle in after 10-15 minutes. If necessary, you can always go back for another draws

If you already have experience with delta-8, though, you might need to take more for it to affect you. Despite this, go slowly at first – it's easy to without realizing it end up taking too much . If you do accidentally take more than your body can handle, mild side effects like red eyes, or dry mouth may occur. Keep in mind these symptoms are only temporary – the effects of vaping wear off quickly. So don't worry – just use the general guidelines as a starting point.

Storage Guidelines – Delta 8 Vape Cartridges

For each of our vape cartridges, you will get 300 draws if stored properly following these recommendations: in a cool, dry place away from sunlight. This prevents the loss of potency for the distillate and keeps the cartridge itself intact. Also, when you're done using it for now, keep it upright so liquid doesn't leak out from the mouthpiece.

To get the best possible experience with your cartridge, and to protect it, we suggest using the food-grade silicone caps provided each time after you finish. This will help defend the cartridge during transport or storage from becoming too hot or cold. Following these steps will ensure your cartridge continues to work perfectly until the very last hit.
Frequently Bought Together
Buy with our Vape Battery and Save extra $$
Product
Ratings & Reviews
Here's what customers think about Pineapple Express Delta 8 THC Vape:
Great Flavor
Flavor is great and it does taste pineapple. A good mellow vape, great to help sleep
Pineapple Express Delta 8 THC Vape