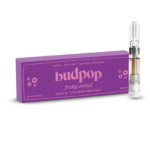 Fruity Cereal Delta-8 Vape Carts
$

49.95

—

or subscribe and save

25%
Sale!
Fruity Cereal Delta-8 Vape Carts
$49.95 — or subscribe and save 25%
900mg of Delta-8 THC
Made With Natural Terpenes
Additive-Free (NO PG, VG, PEG, or MCT Oil)
Third-Party Lab Tested
Made in the USA
Free Fast Shipping
*** We do not ship to the following states: Arizona, Arkansas, California, Colorado, Delaware, Idaho, Iowa, Mississippi, Montana, Rhode Island, and Utah. ***
Description

Fruity cereal has a sweet, milky, creamy flavor that gives you the ultimate nostalgia from the good ol' days, while giving you a soothing, full-body euphoria.

It has an exhilarating and uplifting aroma, infused with your favorite fruit cereal, that clears your mind and leaves you feeling energized and upbeat.

Our Fruity Cereal delta-8 vape carts contain the following ingredients:

Delta-8 THC: Our vape carts contain a 800mg of delta-8 THC, providing you with a potent dosage of relaxation with each puff.
Natural Terpenes: We use natural terpenes to create its fruity aroma, each Budpop vape is made with strain-specific terpenes extracted from the hemp plant.
Natural Flavors: When you use our Fruity Cereal vape carts, you will notice a sweet creamy taste, which is due to the natural flavors creating an enjoyable experience every time.

Fruity Cereal Dosing Guide

Despite the fact that our Fruity Cereal vape carts' mouthwatering smells and aromas may make it impossible to refrain from vaping, it is advisable to go by our dose recommendations. If you are a novice or inexperienced user of delta-8, you might wish to start out slowly and with a lesser dose. It is best to utilize delta-8 sparingly than to overdo it and run the danger of feeling uneasy.

We advise starting with a single three-second draw from our Fruity Cereal vape cart. After your initial inhale, you should begin to experience the relaxing effects because inhaling delta-8 is one of the quickest methods to feel the effects. To feel the full effects of your first hit, you might need to wait 10 to 15 minutes. If you still want more, you can always take another draw.

You could require more or longer inhalations if you're a more seasoned delta-8 THC user to feel the full effects. You should use caution still because it is possible to take too much. You might experience some moderate side effects as a result, such as dry mouth or red eyes, which can be bothersome. Even though these side effects last temporarily, it is always safer to go by our advice and recommendations or even talk to your doctor about any particular medical requirements you may have.

How To Store Delta 8 THC Vape Cartridges?

Our Fruity Cereal delta-8 vape cartridges can deliver up to 300 hits, but to make sure they last as long as they should, keep them correctly. We advise storing the cart away from direct sunlight in a cool, dry location. This is done to ensure that the ingredients—like natural terpenes and delta-8 oil—retain their effectiveness and purity. Additionally, the vape pen and cart's structural and physical integrity will be preserved. The cart must be stored upright to eliminate any danger of leaks.

When not in use or being kept, our vape cartridges' food-grade silicone caps are used to seal the carts. This will stop leaks and keep the vape cart's contents clean and safe from contamination. Additionally, the cart's temperature is crucial because extreme cold or heat could harm the cart's structure. To get the most out of your vape cartridges, you should keep them correctly.
Frequently Bought Together
Buy with our Vape Battery and Save extra $$
Product
Ratings & Reviews
Here's what customers think about Fruity Cereal Delta-8 Vape Carts:
Great Flavor
Fruity Cereal has great flavor and does a good job, keeps you mellow all day.
By far the best vape I have used from BudPop. Not a fan of the cartridge,oil seems to be coming out of the tip.
Awful Taste
I'm not sure if I'm vaping right but I didn't like the taste or the fact that it burned in my throat.