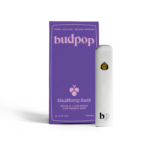 Delta 8 + Live Resin 2g Disposables (1600 mg) – Blackberry Kush
$

64.95

—

or subscribe and save

25%
Delta 8 + Live Resin 2g Disposables (1600 mg) – Blackberry Kush
$64.95 — or subscribe and save 25%
Experience the power of delta 8 THC with BudPop's disposable live resin vaporizers. Convenient and easy to use, our delta 8 live resin disposables are perfect for those on-the-go or looking for a hassle-free vaping experience.
*** We do not ship to the following states: Arizona, Arkansas, California, Colorado, Delaware, Idaho, Iowa, Mississippi, Montana, Rhode Island, and Utah. ***
Description

Delta 8 Live Resin Disposables

Delta 8 Live Resin Disposables are a discreet and elegant way to delight in the natural, uplifting sensations of Delta 8 and the potency and fresh flavors of live resin. Many people enjoy the relaxed, gentle euphoria that comes with Delta 8 but still want a burst of authentic, natural flavors that live resin brings to the party. We understand, which is why we're pleased to offer enthusiasts a selection of premium, hemp-derived Delta 8 + Live Resin Disposable Vapes!

Like all BudPop products, we make our convenient, disposable vapes with perfection in mind. We only use the best natural ingredients and wouldn't have it any other way. So when you're on the go and need a lift, our Delta 8 Live Resin Disposables are with you all the way. If you're new to these disposables or want to learn more about these phenomenal mood changers, read on to discover what sets Delta 9 Live Resin Disposables apart from other vapes.

What Are Delta 8 Live Resin Disposable Vapes?

Delta 8 Live Resin Disposable Vapes are portable vaporizers that contain a single-use vape cart and battery in one hand-held device. These buttonless, draw-activated disposables are an effortless, all-in-one way to enjoy the benefits of hemp-derived Delta 8 THC (Delta 8 or D8) and live resin.

D8 Live Resin Disposables typically come pre-charged and are easy to use from the first hit to the last. Once empty, simply toss the pen. Simplicity is baked into disposable pens, so nothing interferes with your contentment and jubilation when enjoying them.

How Do Delta 8 Live Resin Disposables Work?

When you put your lips on the mouthpiece of a Delta 8 Live Resin Disposable and inhale, the suction force triggers a heating element that produces vapor. Upon every hit, you'll immediately taste the live resin's fresh terpenes and experience a sudden jolt of Delta 8 euphoria.

The great thing about disposable pens is that they're sold pre-filled and pre-charged; they're ready to go when you are! Because disposables use built-in internal cartridges and batteries, there's no tank to fill or battery to charge before your first vaping session. From the start, it's as simple as breathing, with a lot of fun added in!

Our Delta 8 + Live Resin 2G Disposables have enough in their tank to last around 700 sessions, so they're more than one and done. And when it's time for a charge, connect the battery to a universal USB charger to power up.

How to Use Delta 8 Live Resin Disposable Vape Pens

Both experienced Delta 8 and live resin aficionados and new beginners love the simplicity of BudPop's Delta 8 + Live Resin 2G Disposables. Unlike your typical vape carts, our Delta 8 Live Resin Disposable Vape Pens are draw-activated and don't require any buttons to push.

Just place your lips on the mouthpiece and inhale. You'll immediately feel the sensational vapor envelop your tastebuds and fill your lungs with soul-lifting goodness. Hold your breath for a few seconds and savor the joyous, mind-clearing, and relaxing euphoria that soon follows. Repeat these steps if you need a little more until you're satisfied. It's as easy as that!

Ingredients of Delta 8 Live Resin Disposable Vapes

We want you to enjoy our Delta 8 Live Resin Disposable Vapes from the first perfect puff to the final, enthralling hit. That's why we insist on using only the best natural ingredients and never use artificial fillers or additives like PG, VG, PEG, or MCT oil.

We know you'll feel and taste the difference because our Delta 8 Live Resin Disposable Vapes only use three simple ingredients:

Hemp-derived Delta 8 THC Distillate: Starting with premium, Farm Bill-compliant USA-grown hemp with 0.3% or less THC, we extract CBD from hemp and use the safe, clean, and proven isomerization method to convert it into Delta 8 THC. What results is a beautiful amber-colored Delta 8 distillate.
Live Resin Hemp Extract: The potency of live resin starts with freezing "live" hemp flower right after harvesting. This preserves the natural cannabinoids and terpenes at peak freshness, so they're close to perfection when we extract them to make live resin. Coupling this extract with Delta 8 THC only enhances D8's potent benefits for a purer and more potent experience.
Natural Terpenes: We only use the best natural terpenes to deliver bountiful flavors and aromas that entice your taste buds for the ultimate vaping experience.

Disposables vs. Non-disposable Vapes

Disposable vapes are the most convenient, portable, and discreet way to vape your way into Blissville. If you're new to vaping, they're perfect because you don't need a battery, can easily try different flavors, and don't have to worry about changing out vape carts. Disposables typically are less expensive and require less effort to use since most of them are draw-activated. And when you run out of vape juice in a disposable, you can throw the entire pen away!

Non-disposable vapes have their advantages as well. If you have a standard 510-thread battery, you can attach any compatible vape cart to it and enjoy. Non-disposable vapes typically have more flavors to choose from. So if you don't like your current vape cartridge's flavor, you can swap it out for a more palatable one. Although non-disposable vape pens offer the same portability and hand-held efficiency as disposables, they are typically slightly larger.

Both disposable and non-disposable options are great for those looking to enjoy the benefits of vaping. At the end of the day, which type of vape you decide to use comes down to your personal preference and needs.

Dosage Recommendations for Delta 8 Live Resin Disposables

Disposables use potent concentrates, which is why people enjoy them so much. If you're new to vaping Delta 8 Live Resin, it's best to remember the GLASS rule — Go Low And Start Slow. Start with a brief, three-second inhale, hold the vapor in for a moment, then breathe out. We recommend waiting 15 minutes to see how you feel before enjoying another hit.

Even those who have experience vaping Delta 8 Live Resin should proceed cautiously. If you overdo it, you may feel temporary side effects that will ease over time. You may experience dry eyes, dry mouth, upset stomach, and drowsiness and may want to lie down and rest. Don't worry, the slight discomfort won't last long. Relax, drink some water, and you'll be fine in a few hours.

Storage Guidelines — Delta 8 Live Resin Disposables

When you have a disposable vape, like BudPop's Delta 8 + Live Resin 2G Disposables, you can expect around 700 hits. That's a lot of sessions, and it's good to properly store the pen to preserve its efficacy.

To keep the Delta 8 and live resin distillate fresh and potent, we suggest placing it upright (vertical) in a dry, cool place at room temperature and away from direct sunlight. Ensure that children and pets cannot access this area. Finally, if it's been a while since your last session, you can recharge the vape using a universal USB charger to avoid any unexpected disappointment.
Product
Ratings & Reviews
Here's what customers think about Delta 8 + Live Resin 2g Disposables (1600 mg) – Blackberry Kush:
Delta 8 + Live Resin 2g Disposables (1600 mg) - Blackberry Kush