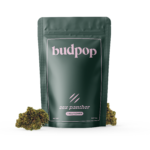 THCA Flower | Sex Panther
$

54.95

—

or subscribe and save up to

25%
THCA Flower | Sex Panther
$54.95 — or subscribe and save up to 25%
Top-shelf THCA Hemp Flower

Sativa (25.24%)

100% Natural & USA-grown

3rd Party Lab Tested

Federal Farm Bill Compliant

Free Shipping Across the U.S.
*** We do not ship to the following states: Arizona, Arkansas, California, Colorado, Delaware, Idaho, Iowa, Mississippi, Montana, Rhode Island, and Utah. ***
Product
Ratings & Reviews
Here's what customers think about THCA Flower | Sex Panther:
My order never arrived.
I submitted my order 5/28/2023. It was shipped 5/30/2023. It got as far as Avenel, NJ on 6/6/2023 and has been sitting there ever since. I've sent four emails to Budpop regarding this issue and as of 6/19/2023 have not heard from them.
Hi Thomas! We're sorry that your item is stuck in transit. Our Customer Service team responded to your emails on 06/15, 06/17 and 06/20, all within our 24 hour response timeframe. If you haven't received these emails, please check your spam folder and update your spam filters accordingly. Since the order is currently with the carrier, the first step would be to reach out to the carrier for package updates or to fill out a carrier claim. If that's unsuccessful, our CS team will happily process a reshipment for you!