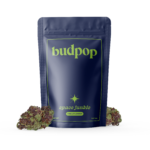 THCA Flower | Space Junky
$

54.95

—

or subscribe and save

25%
THCA Flower | Space Junky
$54.95 — or subscribe and save 25%
Top-shelf THCA Hemp Flower

Sativa (20.69)

100% Natural & USA-grown

3rd Party Lab Tested

Federal Farm Bill Compliant

Free Shipping Across the U.S.
*** We do not ship to the following states: Arizona, Arkansas, California, Colorado, Delaware, Idaho, Iowa, Mississippi, Montana, Rhode Island, and Utah. ***
Description

What Is THCa Flower?

THCa Flower is a hemp flower rich in THCa or Tetrahydrocannabinolic Acid. This cannabinoid is the precursor to Delta-9 THC (D9, D9 THC, or THC), the iconic, world-famous cannabinoid known for its uplifting cerebral effects & physical relaxation. When you apply heat to THCa Flower, the THCa turns into Delta-9 THC, giving hemp lovers what they've been missing from traditional hemp flower and a way to enjoy the numerous benefits of THC.

How Do I Use THCa Hemp Flower?

There are a few different ways to use THCa Hemp. You can consume THCa Hemp Flower "raw," meaning without heating it, or it can also be "cooked" by smoking or vaping it using a dry herb vaporizer. Consuming THCa without heating does not produce the mentally stimulating effects we associate with Delta-9 THC. Instead, raw THCa can offer some wellness benefits and help with focus and concentration. Examples of consuming THCa Hemp in its natural form include infusing it into oils or dressings, adding it to a green juice or smoothie, or sprinkling some freshly ground flower over a cold salad!

The more well-known way to use THCa Hemp Flower is by smoking or vaping it for mood-elevating and physically relaxing benefits. You can also cook with THCa Flower to create dishes and confections to deliver an even more potent THC experience.

BudPop's THCa Flower — Best THCa Flower

We source our premium, USA-grown THCa Flower from skilled and passionate farmers who are expert hemp growers. In addition to expertise in cultivating these hard-to-grow strains, we select their most impressive strains to provide the best THCa Flower to our loyal customers! 

Take your senses to outer space with this stimulating Sativa, consistently testing around 20% THCa and known for providing a stimulating cerebral effect. This strain's creamy and citrusy hints balance skunky and sweet flavors that will satisfy alien and human hemp lovers alike!  

Dosage Guidelines

If you are new to THCa Flower, start with a small amount and allow yourself to get used to the feeling. If you are using a pipe or bong, pack around ½ a teaspoon of ground THCa flower into the bowl and enjoy. Take 1-2 puffs and wait a few minutes to determine if you are getting the desired effect. You can always consume more if you decide you'd like a stronger experience. For best results, avoid overconsuming and remember to go slow!

If you are familiar with the sensations of THCa, you can consume as much or as little THCa Flower as you need to achieve the desired effect. For the freshest and most flavorful experience, we recommend only grinding and smoking the amount of flower you consume in that session. 

FAQs

If you are new to THCa or hemp, you may have further questions about this important cannabinoid. We have compiled a list of our most frequently asked questions to provide additional information on THCa hemp flower.

Is THCa Hemp Flower legal?

Yes, our THCa hemp flower is 100% federally legal and Farm Bill-compliant. The Farm Bill is a federal law that permits all hemp products containing no more than 0.3% Delta-9 THC. All our THCa Hemp Flower meets these strict requirements and are independently lab tested to verify the THCa content.

Will THCa Get Me High?

If you smoke, vape, or cook THCa, you will feel an invigorating cerebral effect and deep physical relaxation. If you wish to consume THCa without these benefits, you can consume the raw plant material in a juice, salad, or smoothie.

What Is Considered "High Level" THCa?

It all depends on your individual preference, as everyone has different levels of comfort with the sensations of THC. Generally speaking, THCa percentages of 15-20% are considered a high level of THCa. Anything above 20% THCa is typically seen as a very high level of THCa.

What Are The Benefits Of THCa?

THCa has several benefits, depending on how you choose to enjoy it! The "raw" benefits of THCa show some exciting potential for helping with overall wellness and maintaining normal bodily functions. When you "cook" THCa by heating it and converting it into D9 THC, you can enjoy creative stimulation and physical relief! 

What Is The Difference Between THCa and THC?

Although THCa and THC have similar molecular structures, they create different effects when consumed. THCa does not create an uplifting or euphoric effect if you ingest it without heating it, whereas THC generally does.

Will THCa Show Up On A Drug Test?

Unfortunately, smoking or vaping THCa will probably show up on a drug test, as THCa converts to Delta-9 THC when heated. Remember: drug tests typically check for the presence of THC. So when you smoke or vape THCa Flower, THC enters your bloodstream and will probably result in a THC-positive drug test. If you expect to take a drug test soon, we suggest avoiding THCa Flower for now.
Product
Ratings & Reviews
Here's what customers think about THCA Flower | Space Junky:
Good flower, a little mild
This is probably a good strain to start out with if you're trying out thca flower for the first time. It's a bit underwhelming for an experienced smoker like me, but not disappointing per se. The high is noticeable but not too crazy, and it didn't leave me feeling sleepy which is a plus. The flower itself is a little light for my liking, I like it stickier and more dense. Other than that, I recommend it. Looking forward to trying the other strains available.
Space Junkie
This is an awesome strand! Will definitely buy again!
smokey
THCA Flower | Space Junky
great bud
did the job putting me to sleep