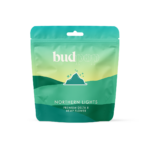 Northern Lights Delta 8 Hemp Flower
$

39.95

—

or subscribe and save

25%
Northern Lights Delta 8 Hemp Flower
$39.95 — or subscribe and save 25%
Top-Shelf Hemp Flower from Colorado
Infused with Premium Delta-8 Extract (Not Sprayed)
Indica-Dominant Strain
Naturally Grown & Non-GMO
Federal Farm Bill Compliant
Third-Party Lab Tested
Free Fast Shipping
*** We do not ship to the following states: Arizona, Arkansas, California, Colorado, Delaware, Idaho, Iowa, Mississippi, Montana, Rhode Island, and Utah. ***
Description

About Northern Lights Delta-8 THC Flower

 

With a strain called Northern Lights, you know you are in for a celestial adventure. And the best part? It comes in the form of our highly versatile and top-notch delta-8 flowers. So whether you smoke them, vape them, or bake them into edibles, our Northern Lights delta-8 flowers will provide you with an amazing experience where you can sit back, look up in the sky, and feel that euphoric buzz kick in and relax your whole body. 

Since Northern Lights is an Indica-heavy strain, you can expect mellow, relaxing effects that are great for winding down at the end of the day and helping put your mind at ease by dealing with uncertainty. If you are looking for uplifting and energizing effects, this is not the strain for you. But if you want to help to get your mind and body relaxed and ready for a good night's rest, then Northern Lights should be your go-to choice. Users have even noted that this strain is great for easing muscle aches, allowing them to get better sleep overall. Some also said these sticky buds provide a smooth smoke and leave them relaxed but not intoxicated. It has been described as a "clear head high" that squashes uncertainty and promotes peace of mind.

Our Northern Lights delta-8 flowers are essentially the mature buds of the hemp plant that we have infused with delta-8 THC. These hemp flowers are grown by federal regulations in the U.S. As a result, you can know our delta-8 flowers are safe to use and are only of premium quality. 

We offer our Northern Lights delta-8 flower in a variety of pack sizes, from 4.2g, or one-eighth,  all the way up to 454g, or one pound. We also have a rewards program at BudPop, where you can earn points for liking our social media pages or making purchases. You can then get discounts on products. Additionally, we also offer free, fast shipping and a 30-day money-back guarantee on all purchases. 

Delta 8 THC Infused Hemp Flower Ingredients

 

Since our delta-8 flowers are pure, they only contain two ingredients:

100% Pure Hemp Flower: The main ingredient in this product is hemp flower which is sourced from our partner farms in Colorado. There, hemp is grown naturally and without the use of GMOs, pesticides, or any other harmful contaminants. The flowers are then subjected to third-party lab testing to ensure their potency, purity, safety, and quality.

Delta-8 Distillate:

Our delta-8 flowers are unique because we dip the hemp flower in delta-8 distillate instead of spraying it on like other brands do. This infuses the flowers with delta-8 instead of simply coating the outside, which allows for a better overall experience. 

Delta 8 Flower Dosage Recommendations

Dosing delta-8 flowers can be tricky, especially if you are new to the cannabis world. This is because of a few things. For one, everyone's tolerance to delta-8 THC is different, and their bodies respond in varying ways. Also, delta-8 flowers do not come pre-measured, such as delta-8 gummies, or with a measuring device, such as marked droppers with tinctures. Therefore, it is hard to judge how much delta-8 you are getting in a certain amount of flowers. 

The best way to start is by smoking or using a special device to vape your delta-8 flowers, as you will almost immediately feel the effects. For the first time, you should take a small amount of flower, and you can either break it up with your fingers or grind it with a grinder. Then, place it in your preferred smoking device, such as a pipe or bong, or you can roll it up into a joint. Light it up and take a small inhale, and then wait for about 10 to 15 minutes to see how you feel. If you find the effects lacking, you can take a little more. Just be sure not to go overboard; or else, you may feel some negative effects, such as heightened uncertainty and dry mouth.

Northern Lights Delta 8 Hemp Strains- Storage Guidelines

To preserve the potency and quality of our Northern Lights delta-8 flowers, simply keep them in a dry place away from sunlight. Optimal places include a drawer or a cabinet; however, you should make sure to keep them away from places high in humidity, such as the bathroom, to keep their integrity intact. 

It is also a good idea to keep the flowers in the bag they came in, as it seals, making it airtight. Alternatively, you could keep them in another airtight container, such as a glass jar. Overall, ensure to keep whatever container you are storing your delta-8 flowers in sealed tightly. Once air gets to the flower consistently, it could dry out, producing harsh smoke and less potent effects. 
Frequently Bought Together
Save 10% When Bought Together!
Product
Ratings & Reviews
Here's what customers think about Northern Lights Delta 8 Hemp Flower:
Northern Lights flower
I am very happy about the quality of Northern Lights. But the package took forever to get here. it made it 3 hours away from my house in four days, but then it took another 7 days to make it the last few miles. I wouldn't order again unless I was ready to wait almost two weeks again.
Expected more
Packaging wasn't very discreet, I smelled it as soon as I opened the mailbox.Buds are moist and sticky which I like , but the buzz was literally 30 minutes , I was expecting more..overall ehh ...it's ok!
Northern Lights Delta 8 Hemp Flower